While it may seem like a lot of work, I'm going to show you how to smoke a brisket the easy way on an electric pellet grill so that you'll end up with delicious and amazing brisket every time!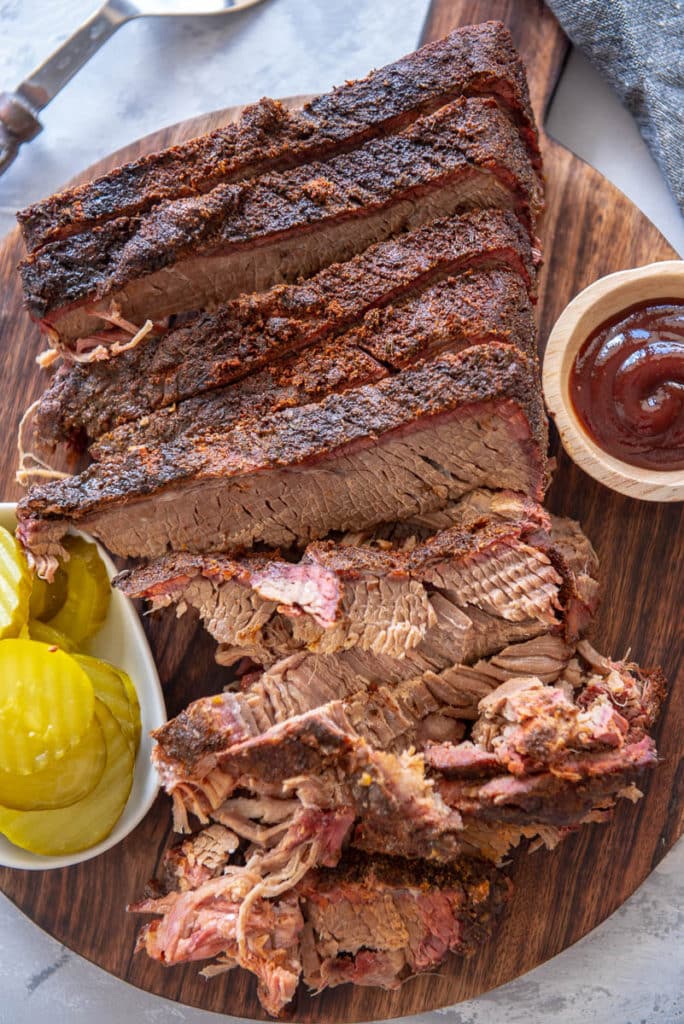 Even if you don't dream of being the next winner of the local BBQ Championship, knowing how to smoke a brisket can make you a winner at your next family dinner or tailgate party. It's easier than you think to get a perfectly cooked, flavorful, tender and fall-apart brisket when you use your favorite pellet grill. If you've ever wanted to get into smoking meat and other foods (seriously you can make anything on these!) an electric pellet grill can be a great place to start!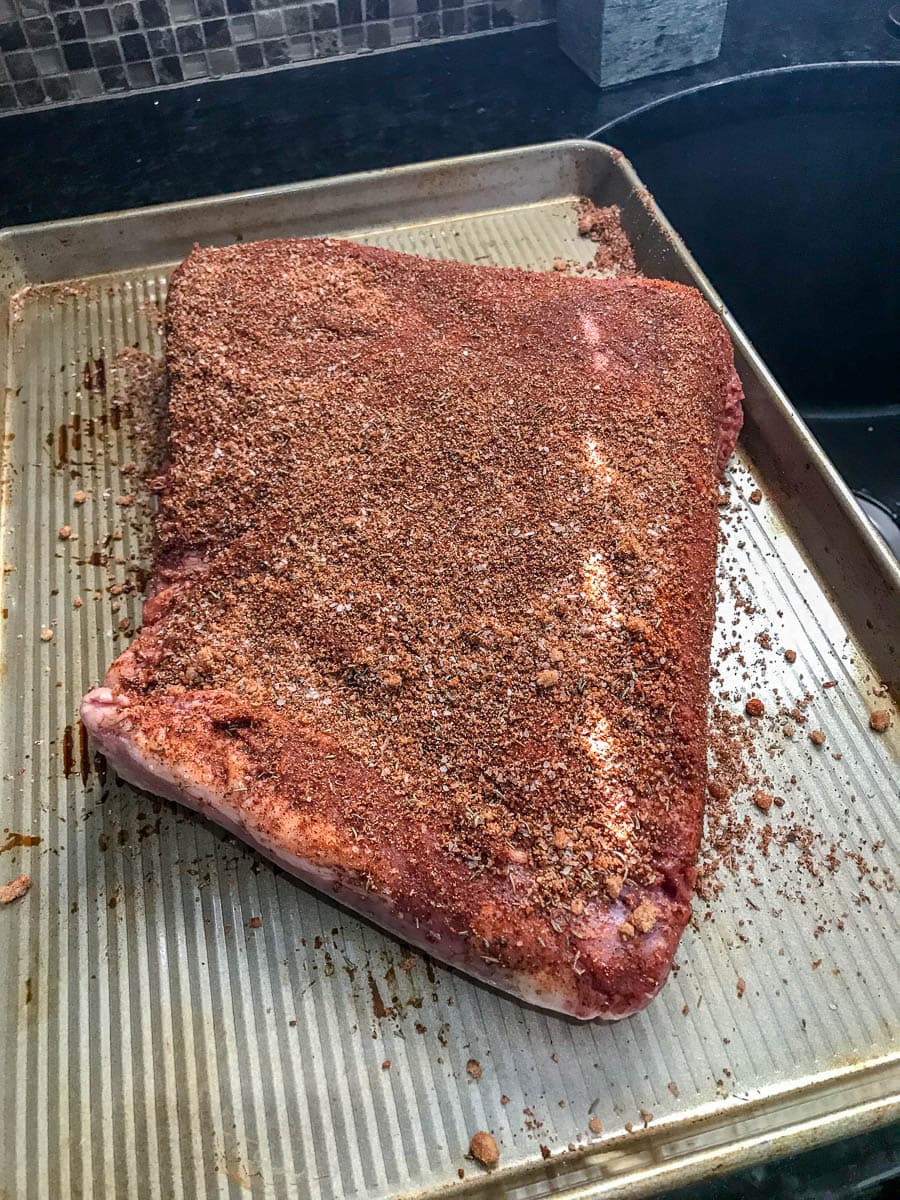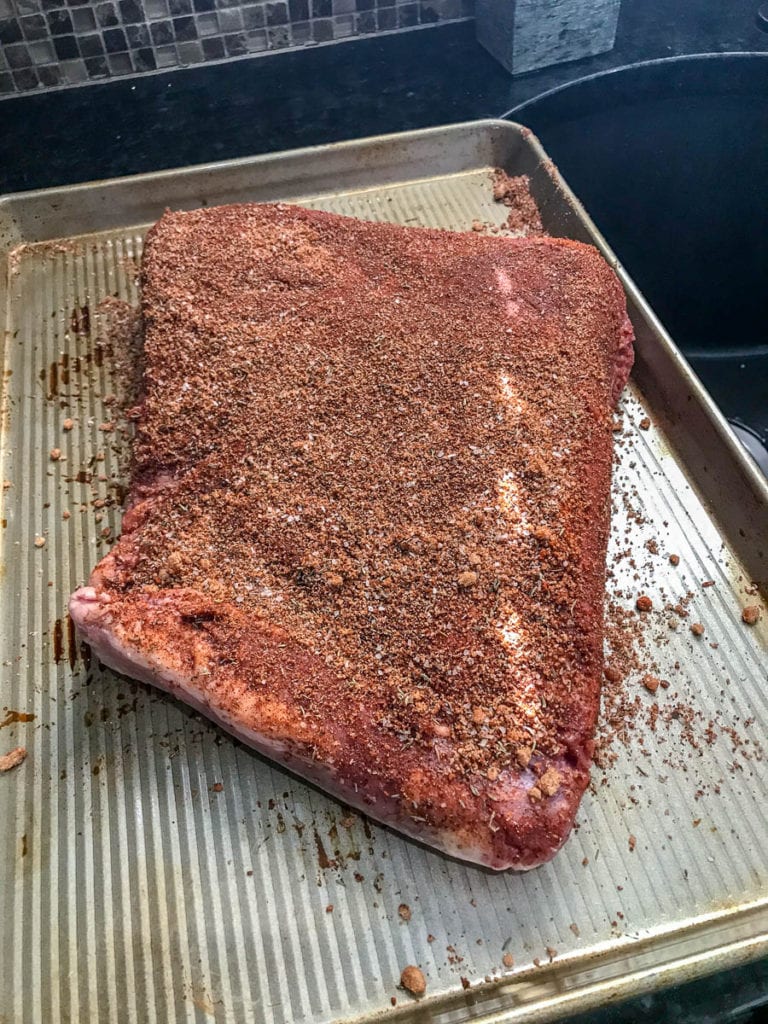 What is a pellet smoker?
There are several brands, but the one I have is a Traeger like this one. I actually started with a smaller version but quickly became so hooked that bought a large one! There are many other brands as well, but the basic idea is that they use wood pellets that run though an auger (powered by electricity in this case) into the fire pit of the grill. This will then distribute the smoke and heat evenly throughout the grill!
What cut of brisket is best for smoked brisket?
A whole brisket usually weighs in at 15 pounds, so most of what you will find at the market is a brisket cut in half (or even in half again!). I usually for a 5-6 pound piece because it's easy to find and plenty to feed most gatherings we host.
The 2 pieces you will find are either the flat or the point. The point is the fattier more flavorful version, but typically the flat is what you will find in the stores. Either is totally fine so try both if possible and see which you personally prefer. Since we are cooking low and slow and using a rub, either version will turn out flavorful and tender.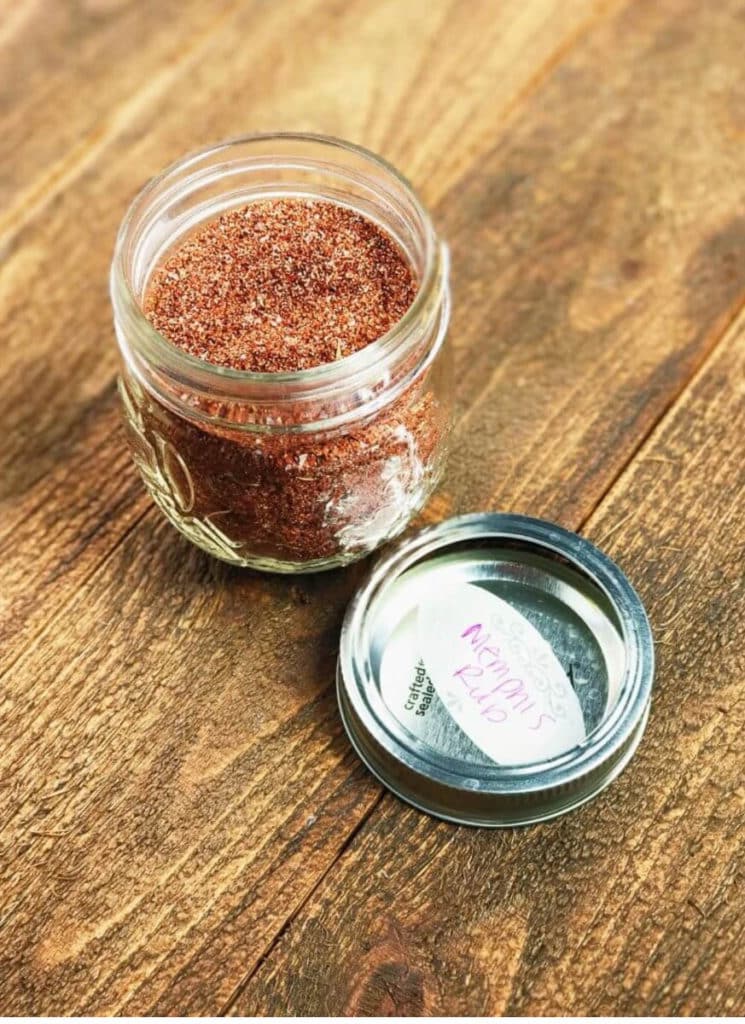 What seasonings go well with brisket?
Keeping it simple is generally best when grilling and smoking meats like this, because the whole idea if for the natural flavor to be the star of the show. That being said, a pellet smoker doesn't produce quite as much smoke flavor as a traditional wood burning smoker, so we are going to dress up this meat a bit with my original homemade Memphis Rub.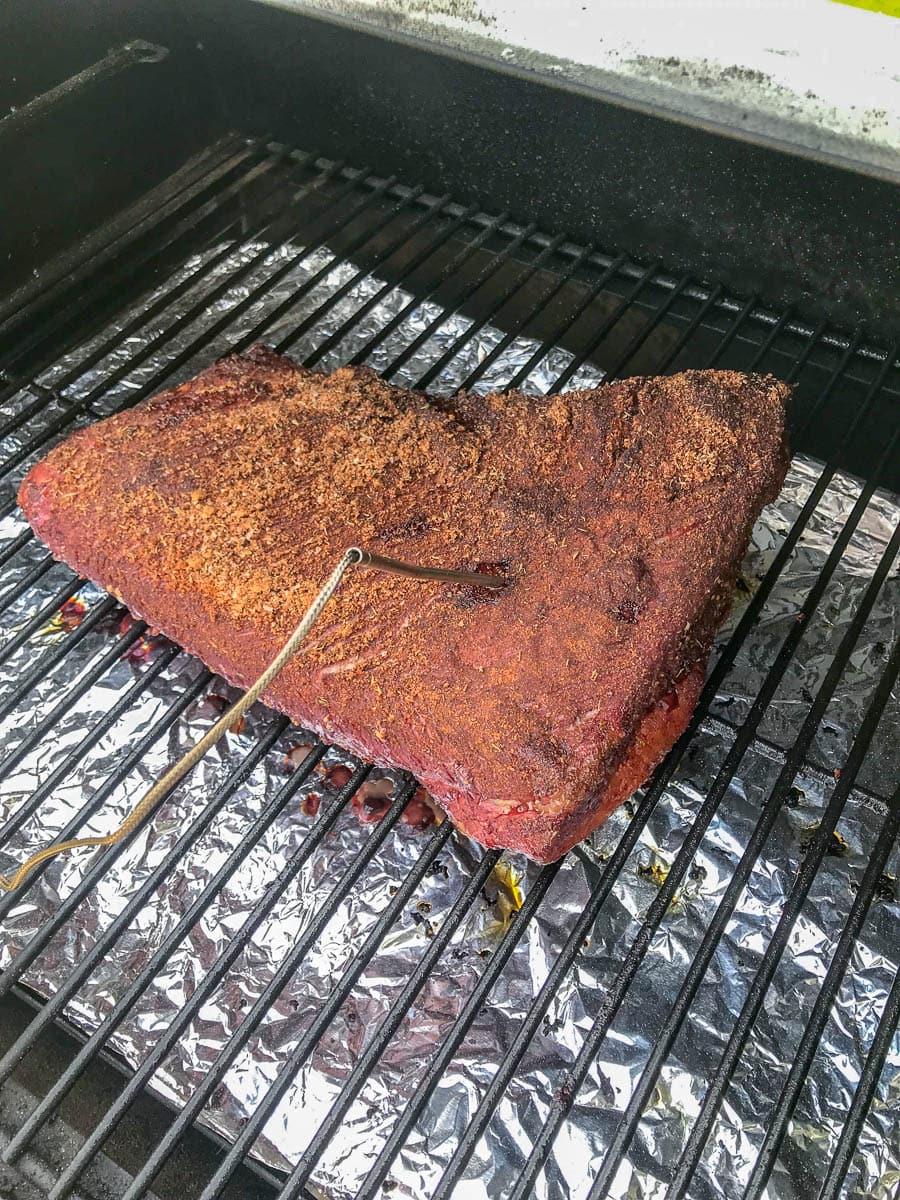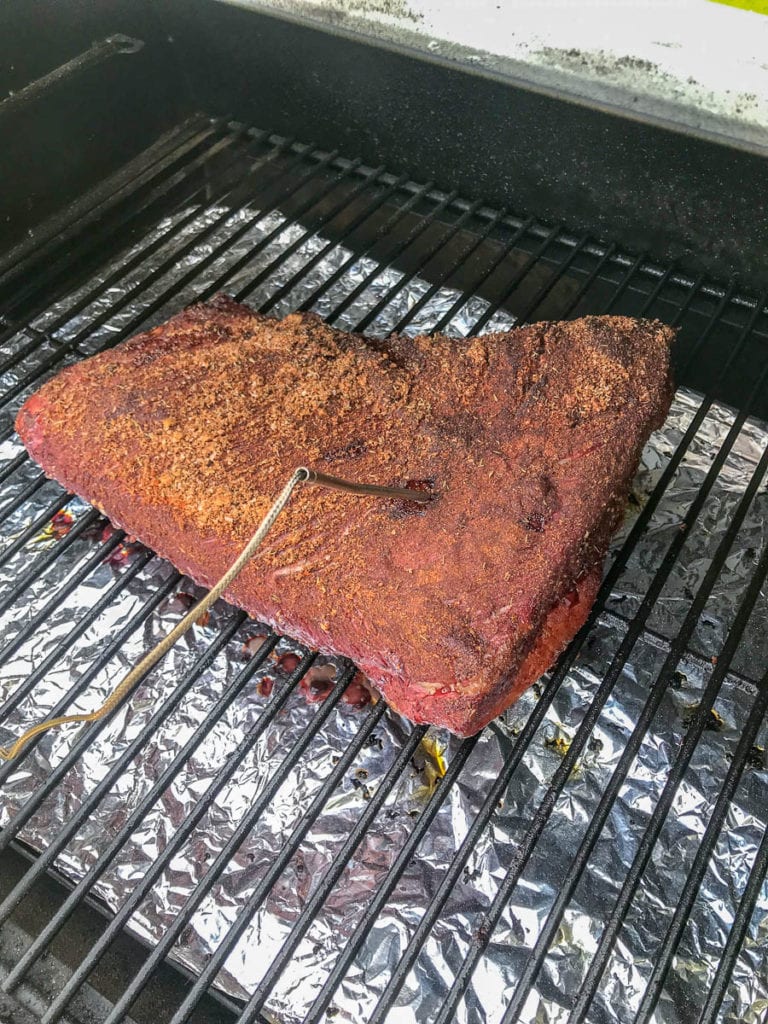 Steps for smoking a brisket on a pellet grill:
season and prepare the meat
preheat the grill according to manufacturer instructions to 225 degrees
Add the meat and cook for about 3-4 hours until the meat reaches 160 degrees internally
Remove and wrap the meat in foil and add some broth and continue cooking until it reaches 205 degrees internally
Remove and rest
Slice against the grain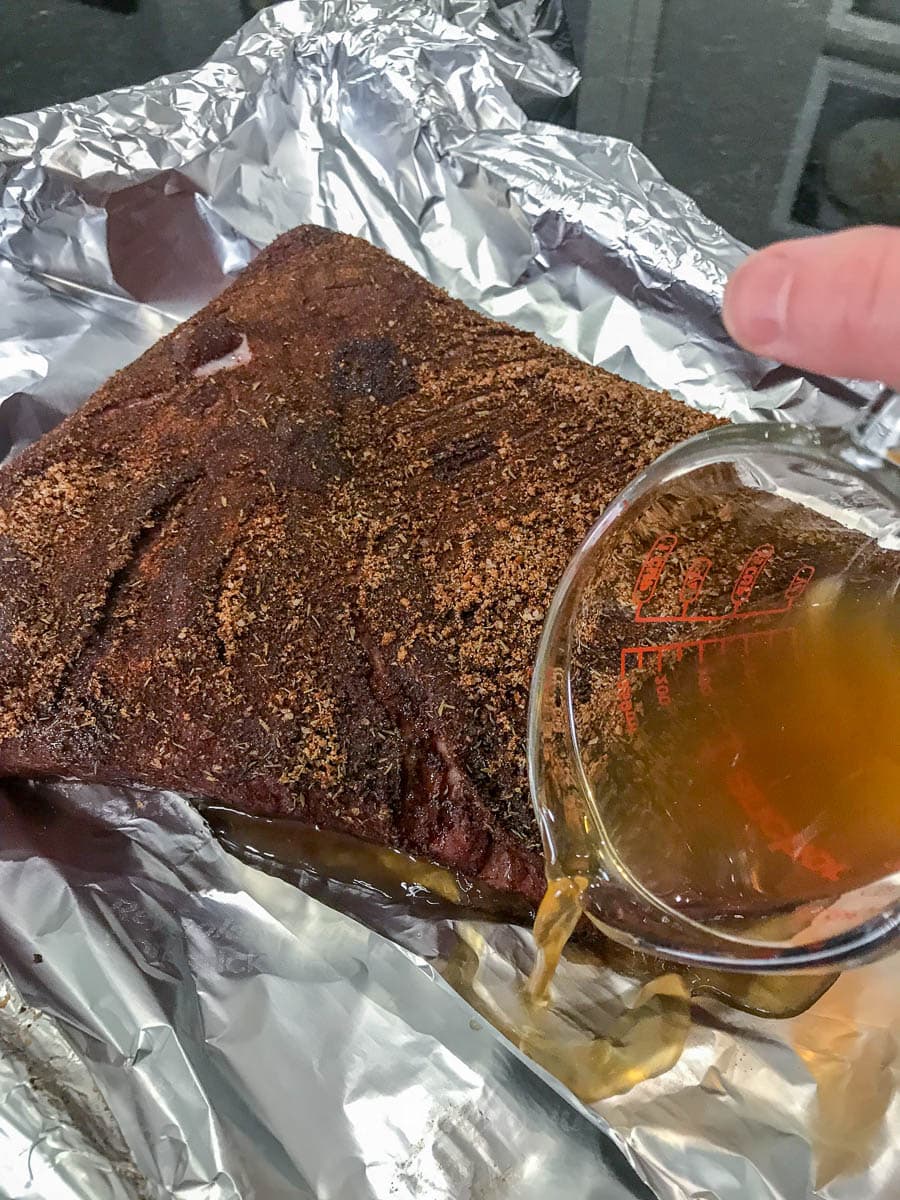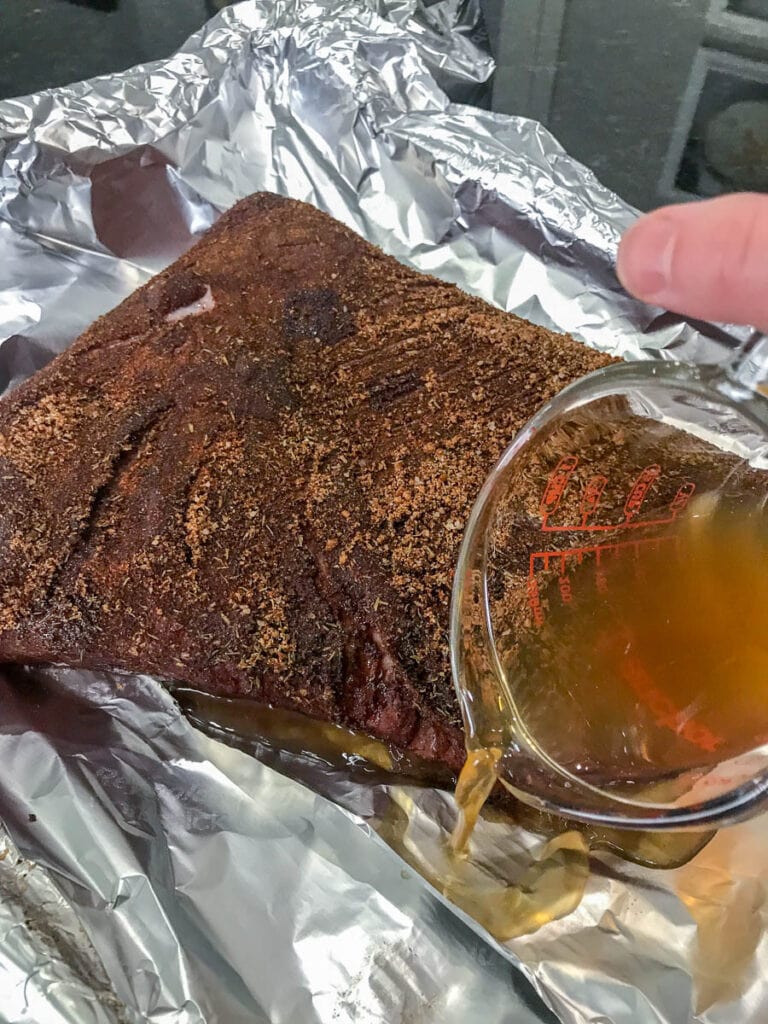 Things you'll need to make this brisket:
a pellet smoker, as mentioned above with pellets
a meat thermometer, I prefer a wireless one for grilling
a sharp knife for slicing
foil for wrapping brisket
a glass jar for storing any leftover seasoning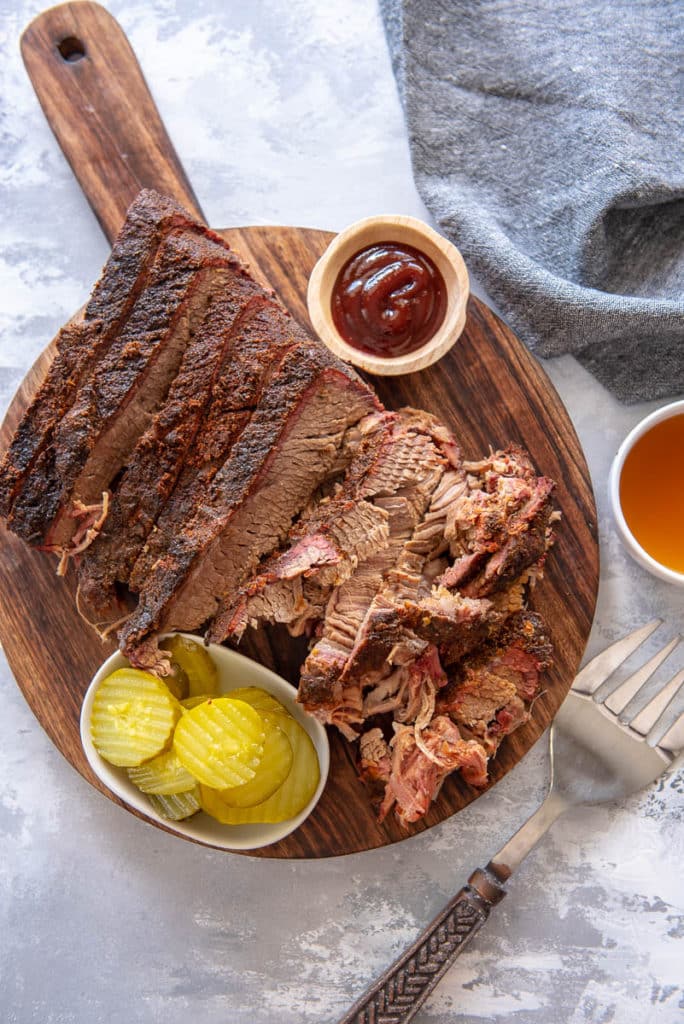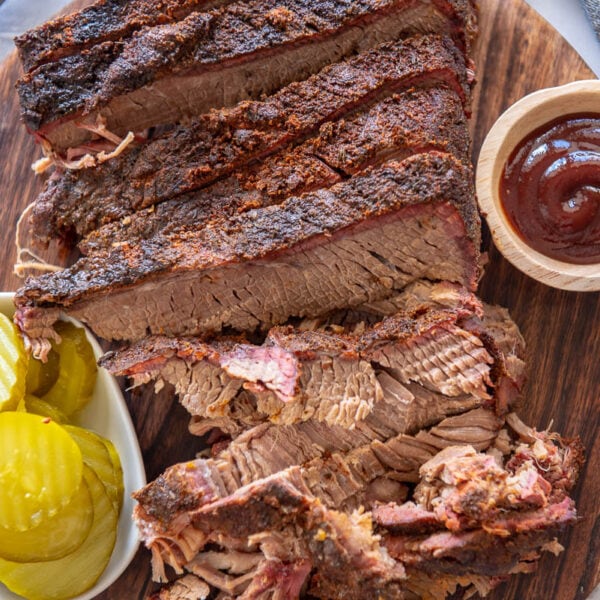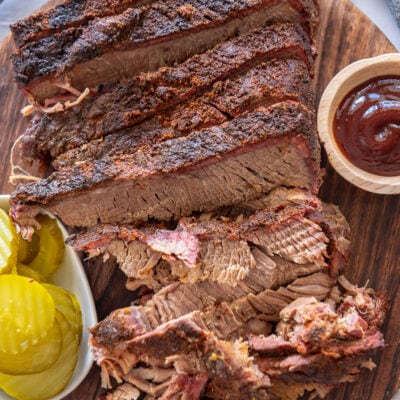 Smoked Brisket
Print Recipe
While it may seem like a lot of work, I'm going to show you how to smoke a brisket the easy way on an electric pellet grill so that you'll end up with delicious and amazing brisket every time!
Add to Collection
Go to Collections
Instructions
Mix together all seasoning ingredients in small bowl or container

Rub all sides of brisket with the dry rub seasoning

Preheat smoker to 225 degrees according to manufacturer instructions

Place seasoned brisket fat side down and let cook until it reaches an internal temperature of around 160 degrees (mine took about 4 hours)

Wrap tightly in foil and add some water or 1/2 cup of beef broth and return to grill until the brisket reaches 205 degrees (about another 2-4 hours).

Remove and let rest for at least 30 minutes before slicing
Notes
If you are running short on time and can't watch the grill for the full time, after wrapping the brisket in foil you can place in slow cooker on low for remaining time instead.
Nutrition
Calories:
185
kcal
|
Carbohydrates:
2
g
|
Protein:
23
g
|
Fat:
8
g
|
Saturated Fat:
2
g
|
Cholesterol:
70
mg
|
Sodium:
232
mg
|
Potassium:
390
mg
|
Sugar:
1
g
|
Vitamin A:
165
IU
|
Calcium:
9
mg
|
Iron:
2.3
mg
Don't have time for smoking a brisket? You can also try my pressure cooker version!