Air Fryer Sweet Potato Fries
These healthy sweet potato fries use 1 tablespoon of oil and take only 15 minutes to cook! Learn the secret to making crispy fries in your Air Fryer at home!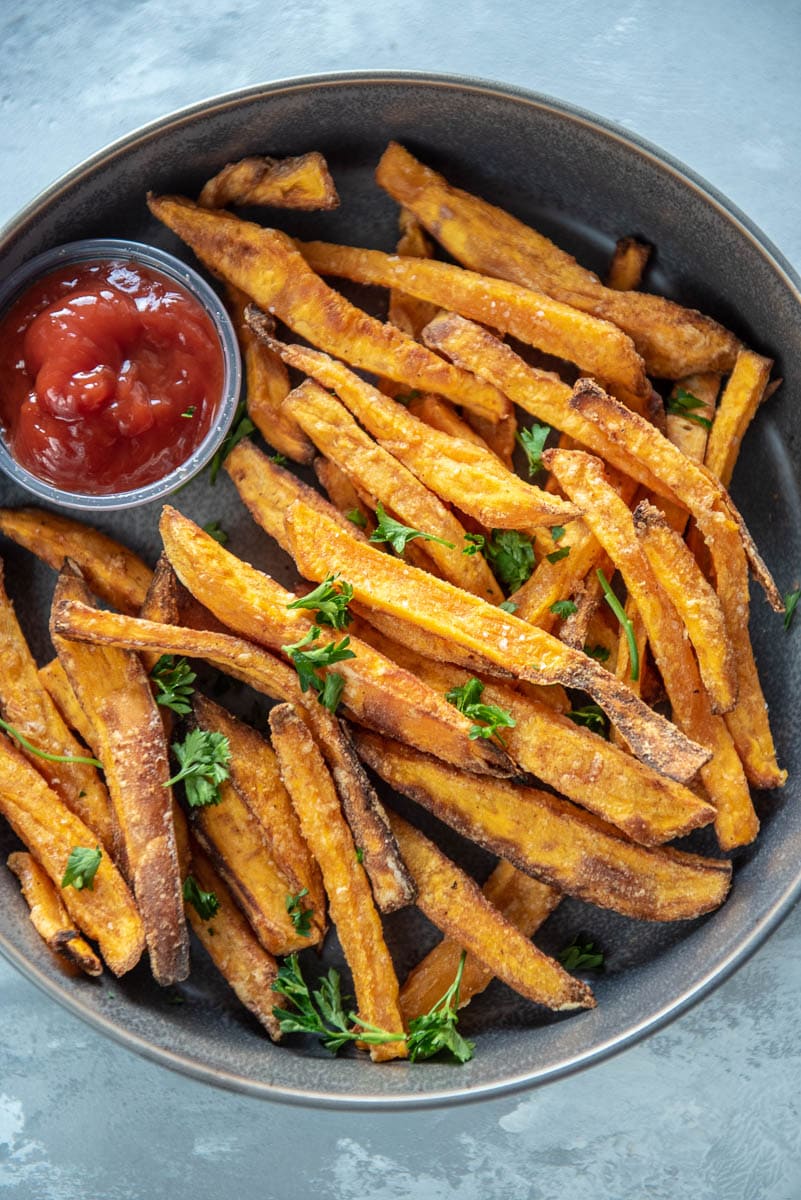 Highlights
Regular fries are fine, but sweet potato fries are my jam! Which camp are you in? There's something about the sweet middle and crunchy salty exterior that makes sweet potato fries the perfect side dish for burgers or really, pretty much anything!

Now, there's no way I'm going to use a deep fryer to make the perfect fries at home. It's scary to think about that hot oil in my kitchen. And honestly, I try to cook a little healthier than that at home anyway.

In steps the air fryer! Perfect for making small healthy batches of your favorite food! True, most of the time I'm using it as an easy way to cook up frozen foods without using my oven, but it's perfect for making those homemade versions too.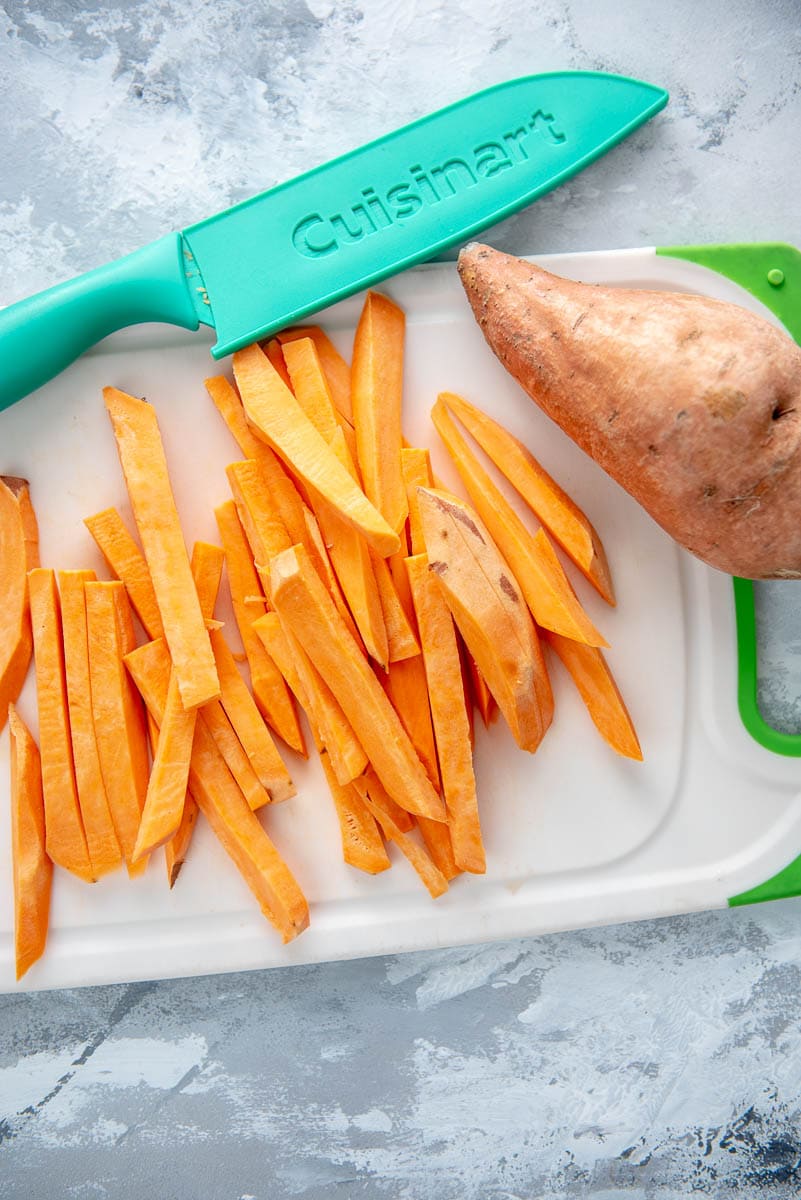 Ingredient Notes
I like choosing one large sweet potato rather than 2 smaller ones because I find it easier to cut.

To make the fries crispy they need some type of dusting like with cornstarch or

tapioca flour

.

For the oil I suggest using

avocado oil

because it has a higher smoke point and won't let the fries burn as quickly.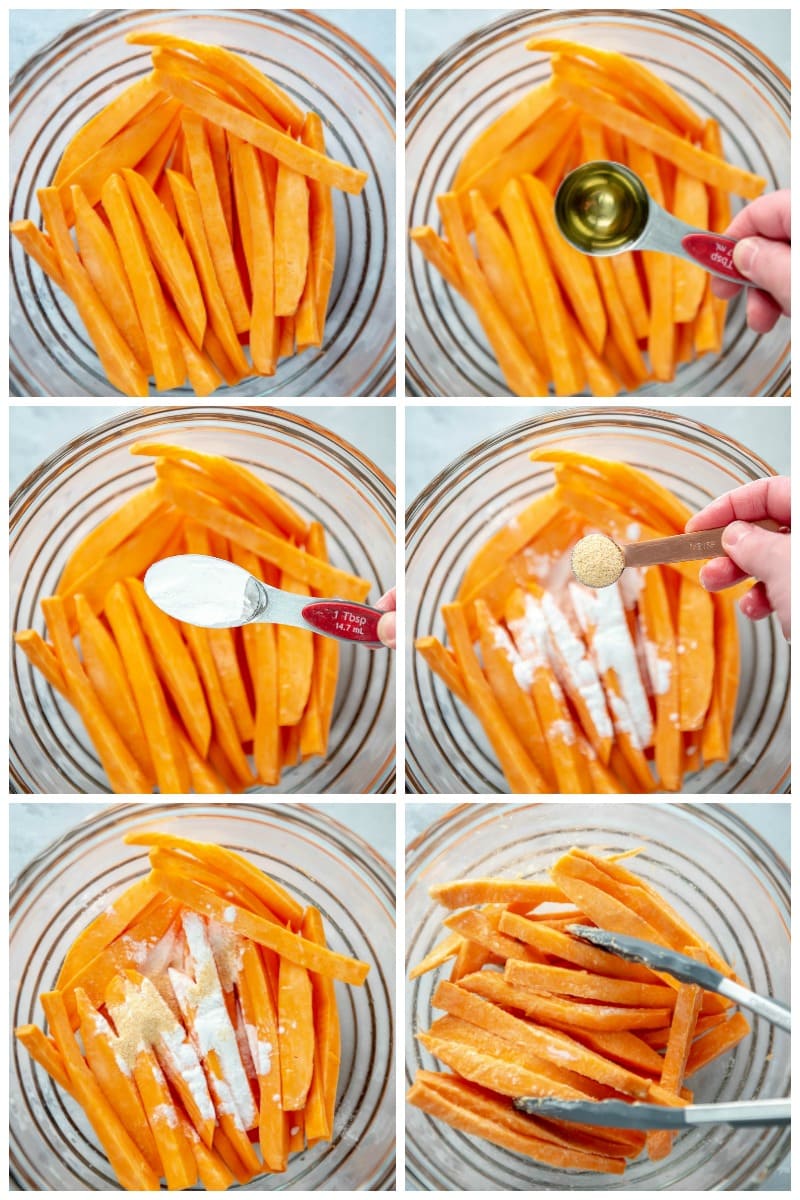 Preparation Notes
Getting crispy fries in your air fryer can be a challenge unless you know a few tricks

Make sure to cut your fries as thin as possible, preferably around 1/4 thick, and try to ensure they are all equal size as much as possible

Soaking the fries in water will help remove some of the starch and help them to be crispier

Make sure to dry the fries and the bowl very well before tossing with flour and seasoning

Leave salt until the end to also help prevent sogginess while cooking

Make sure to check and shake the basket every few minutes to ensure fries cook evenly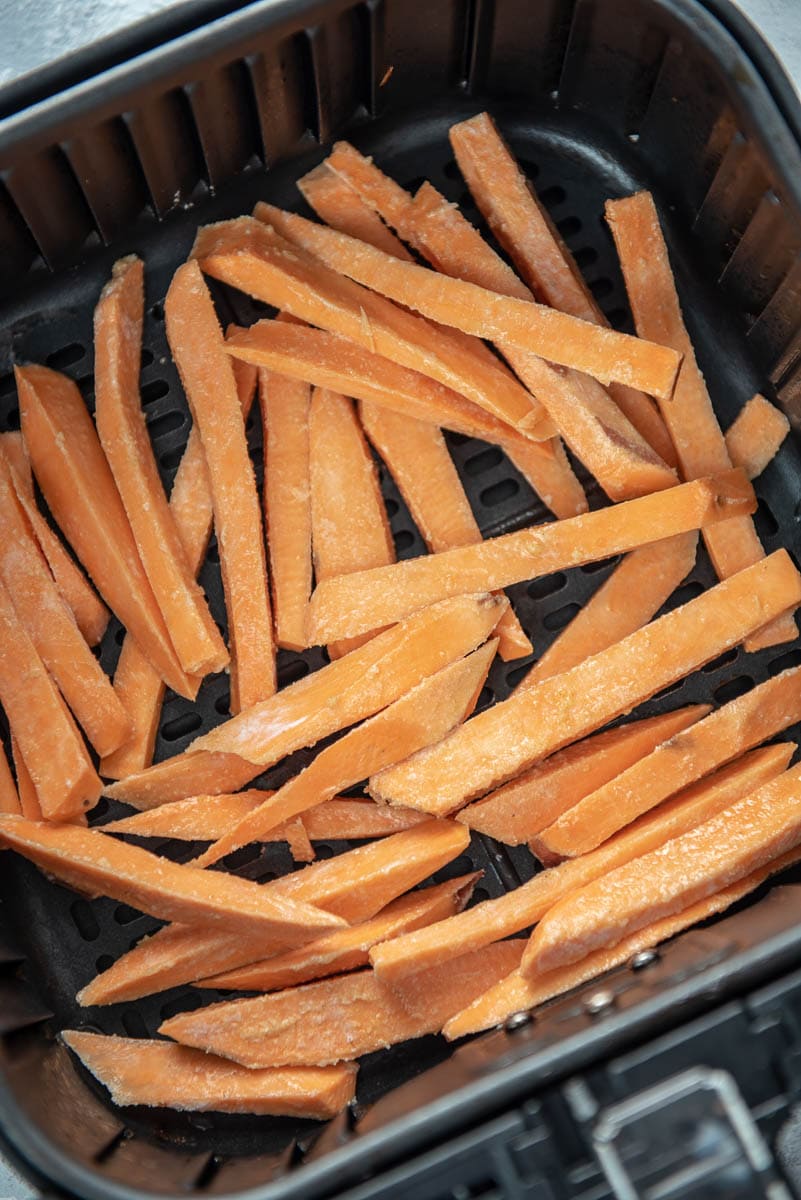 Equipment Notes
A larger air fryer with a square basket is best, but if you have a smaller one simply work in batches.
Recipe Notes
To double or triple the recipe you will likely need to work in batches

You want the fries in as much of a single layer as possible with plenty of room for the air to circulate
How To Store Leftovers
Let cool completely then store in air tight containers in fridge up to 3 days
Related Recipes
Air Fryer French Fries

Air Fryer Turkey Burgers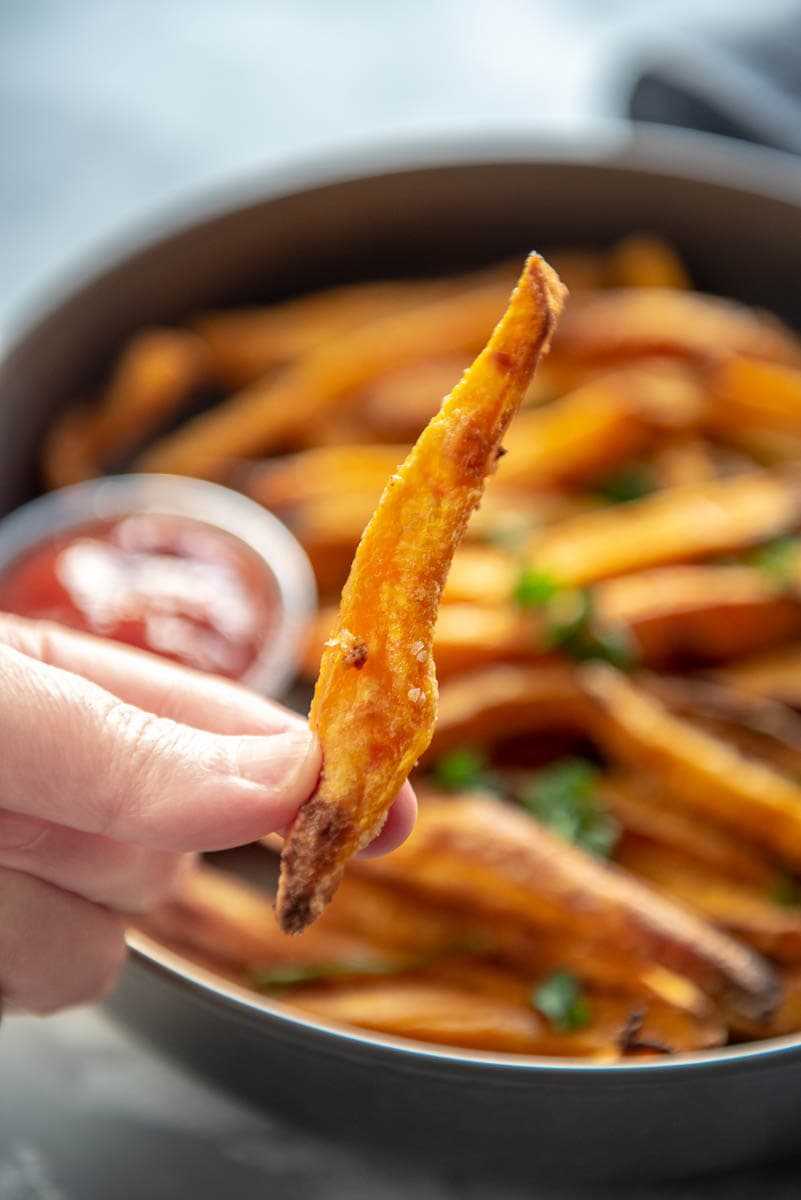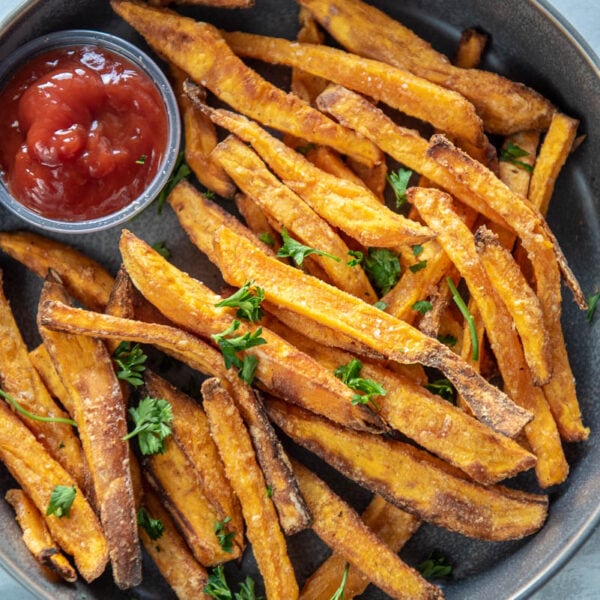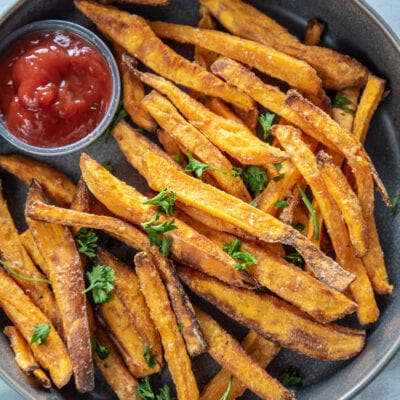 Air Fryer Sweet Potato Fries
Print Recipe
These healthy sweet potatoes fries use only 1 tablespoon of oil and take only 15 minutes to cook! Learn the secret to making crispy fries in your Air Fryer at home!
Add to Collection
Go to Collections
Instructions
Peel skin from potatoes and cut off any skinny ends

Carefully cut potatoes into 1/4 inch thick pieces lengthwise then into 1/4 inch strips

Add cut potatoes to a bowl and cover with water

Let soak for at least 10 minutes but preferable up to 30 minutes to help remove starch (the longer the better)

Drain and towel dry the bowl and potatoes well

Toss with flour and garlic powder

Arrange in single layer in air fryer basket

Cook at 400 degrees 15 minutes, shaking basket every few minutes until cooked through and crispy

Sprinkle hot fries with salt
Notes
Work in batches to double or triple the recipe

Place in a single layer with room for the air to circulate between

Cool completely then store in air tight containers in fridge up to 3 days
Nutrition
Calories:
134
kcal
|
Carbohydrates:
17
g
|
Protein:
1
g
|
Fat:
7
g
|
Saturated Fat:
1
g
|
Sodium:
618
mg
|
Potassium:
219
mg
|
Fiber:
2
g
|
Sugar:
3
g
|
Vitamin A:
9222
IU
|
Vitamin C:
2
mg
|
Calcium:
20
mg
|
Iron:
1
mg