Tired of dried out pork chops? Grab your air fryer and make this fool proof pork chop recipe! Only 3 ingredients and 12 minutes for mouthwatering pork chops.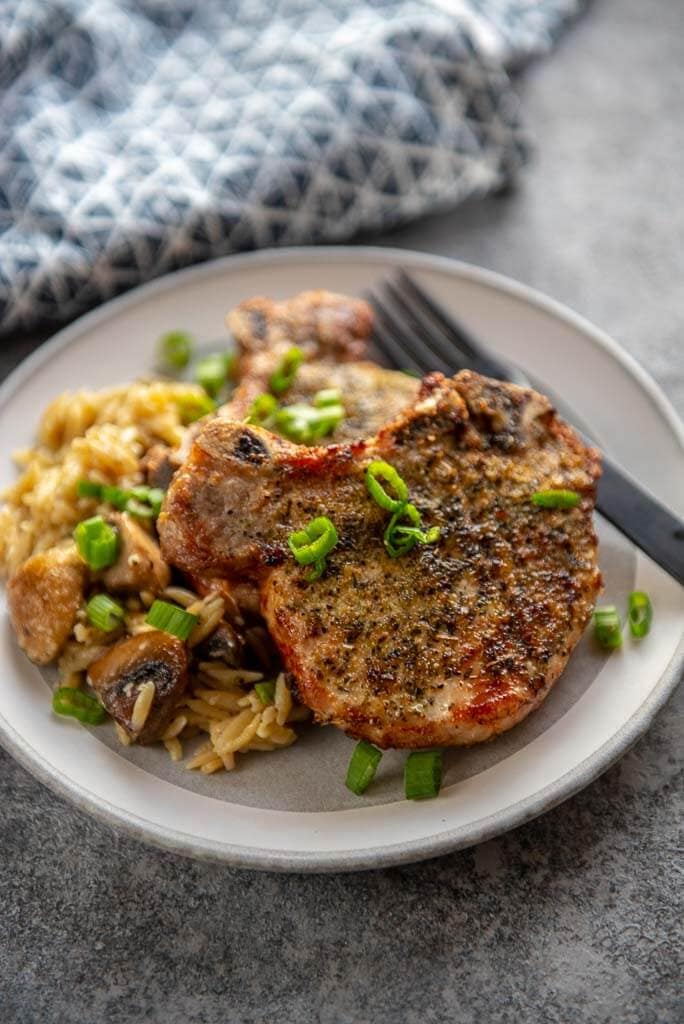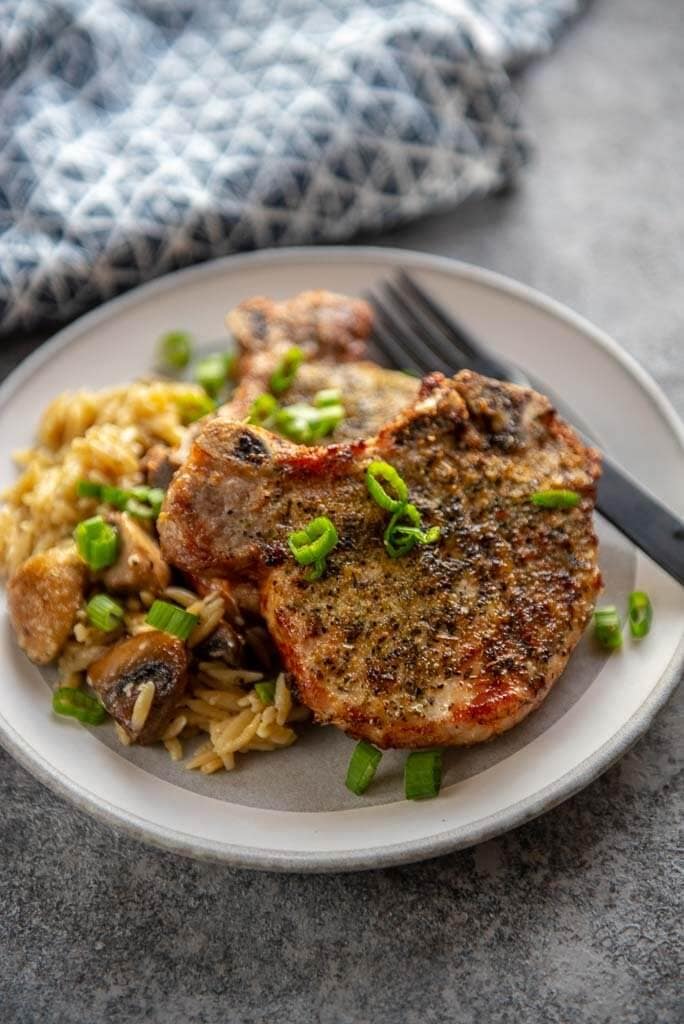 The easiest way to make juicy, delicious and flavorful pork chops without a lot of work or a lot of mess? In the air fryer! Ever since I first purchased an air fryer on a whim, I've been realizing it has all sorts of amazing uses, from wings and nuggets to pizza and even veggies.
At this point I'm almost wondering what doesn't go in the air fryer!
These Air Fryer Herb Crusted Pork Chops use only 3 ingredients and cook in about 12 minutes for the best and easiest dinner you'll cook all week!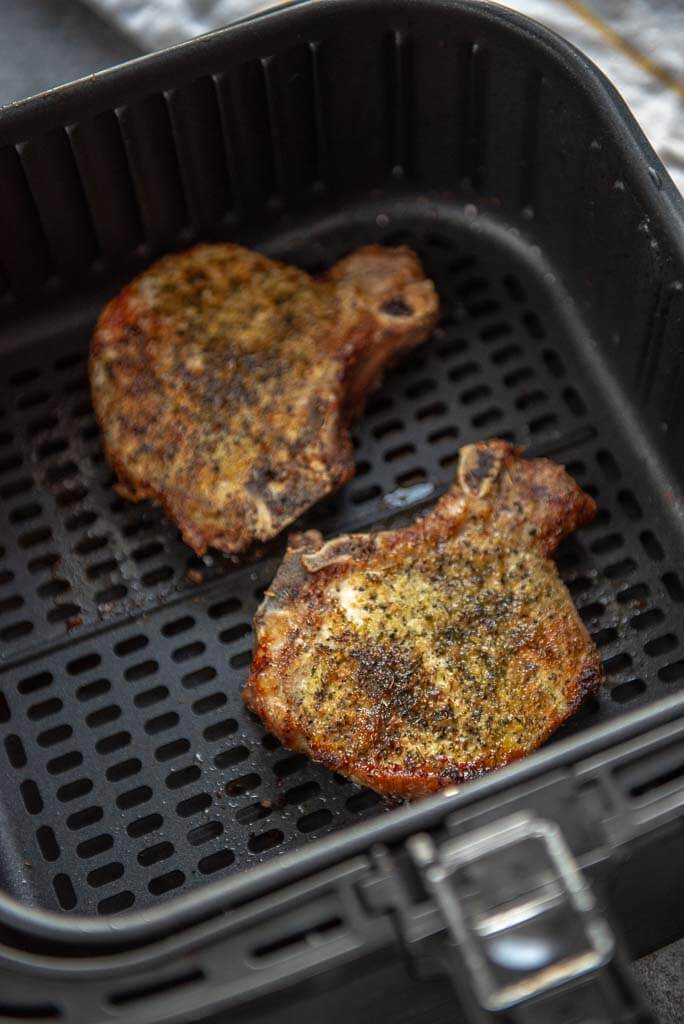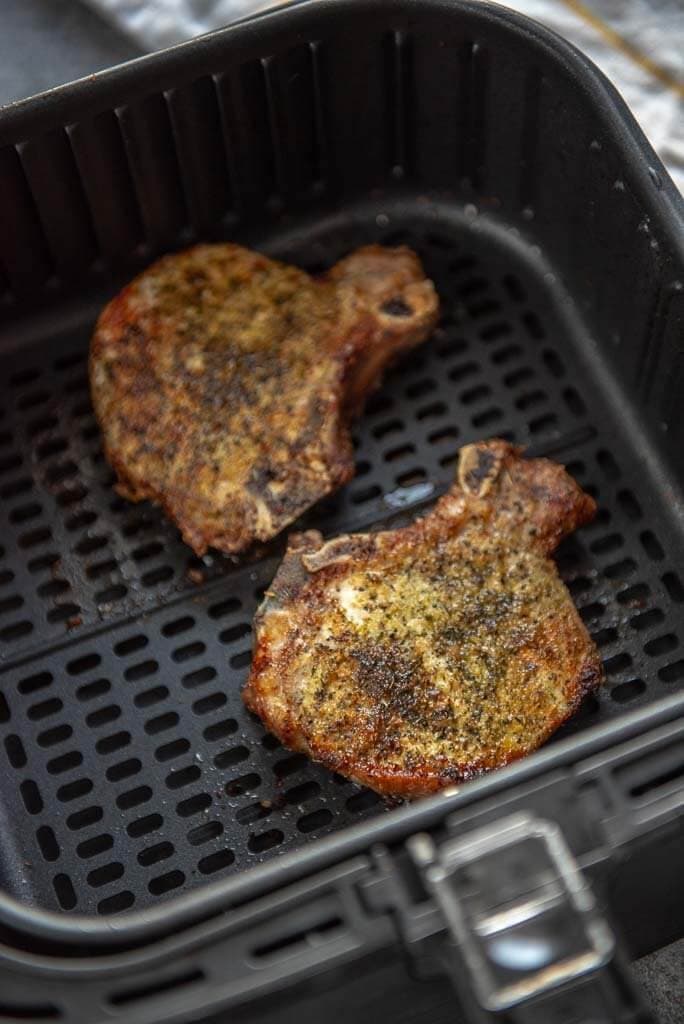 How do you cook pork chops in the air fryer?
Many people prefer preheating the air fryer, but it's not necessary for this recipe. The 12 minute cook time includes the time to heat up. This makes it easier to plan your meal from start to finish.
This recipe uses minimal ingredients
You only need a light spritz of oil and a tablespoon of seasoning to cook up 2 large pork chops. This is enough to feed 2 adults and 2 kids.
I'm a huge fan of seasoning blends to save time when making dinner. This herb and garlic seasoning is my most used and you'll find it in many of my recipes. If you don't have it, you can simply use an equal blend of onion powder, garlic powder and Italian seasoning along with a pinch of salt.
You can also switch up the flavor of the meat by using your favorite seasoning blend for pork in place of the herb and garlic seasoning.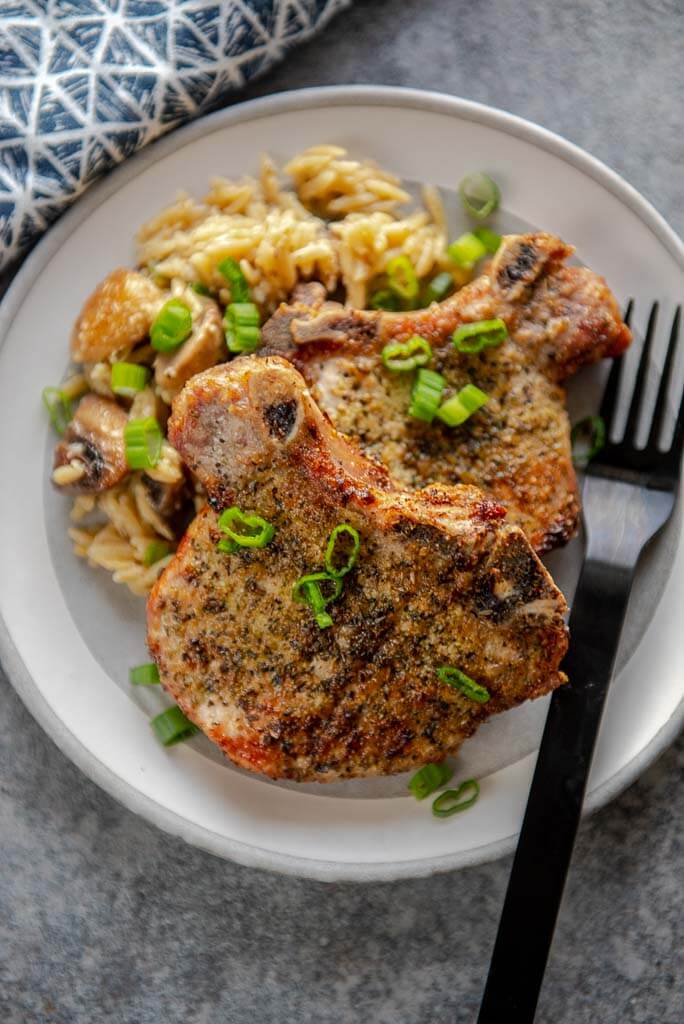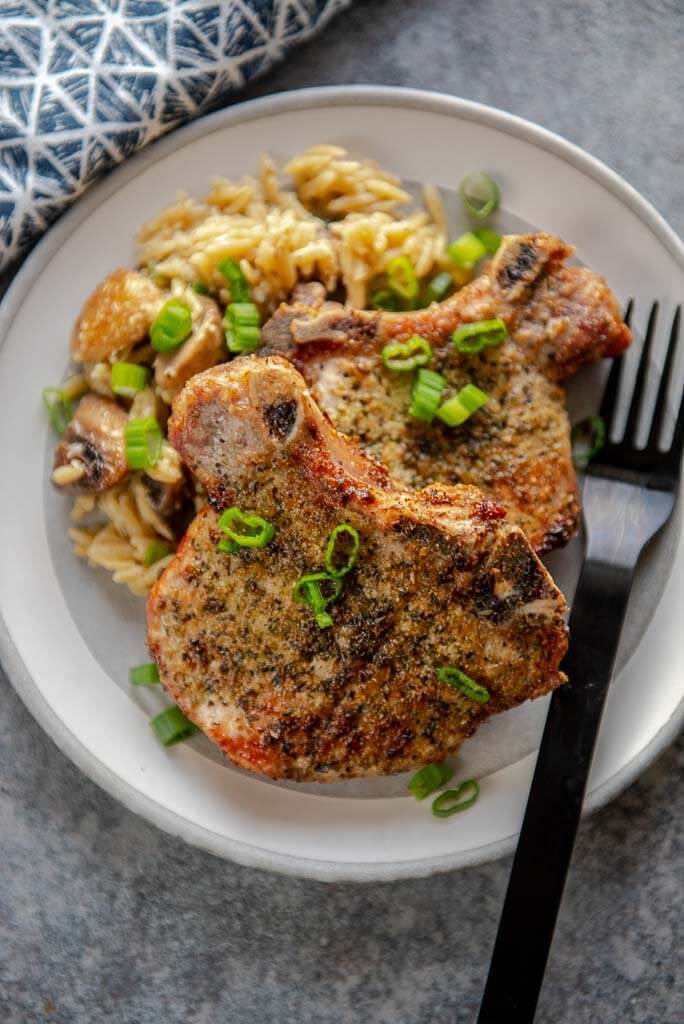 What is the best pork chop for the air fryer?
You can use bone-in or bone-less pork loin chops.
I used pork loin chops with the bone because have enough fat to keep the pork chops juicy and give them flavor. Because you are using the air fryer they don't cook in the fat, which drains into the bottom of the air fryer basket.
You could use boneless pork loin chops, but they may dry out a bit more and you would need to keep an eye on cooking time. Since they are often a little thinner and cook faster.
What is a good side dish for Air Fryer Herb Crusted Pork Chops?
To create a well rounded meal, I suggest serving these pork chops with a grain and at least one veggie.
Here are a few of my suggestions:
Did you make this recipe? Be sure to rate it below!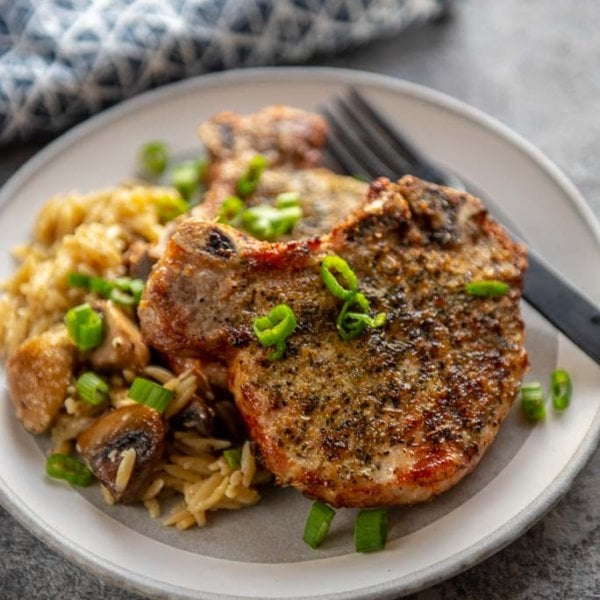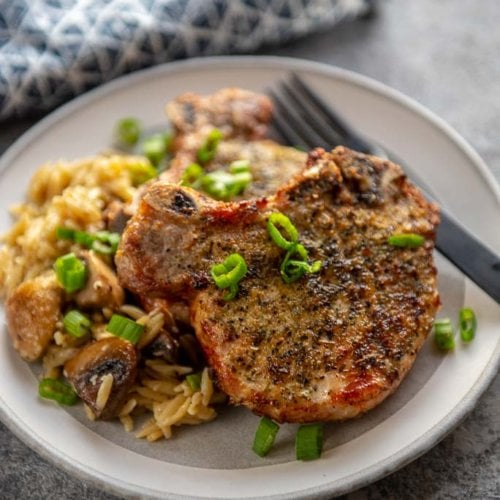 Instructions
Add a spray or light coating of oil to both sides of chops and rub with seasoning

Add to air fryer basket and set to 350 degrees for 12 minutes, flipping once

Allow to rest for 5 minutes before serving
Notes
I used 2 large pork chops that were around 3/4 inch thick. For smaller chops you would want to reduce cooking time.
You can double the recipe by using a 5 quart or larger air fryer or by cooking in batches.
Pork should be in single layer in air fryer.
Flavor can be customized by switching up the herb and garlic seasoning for your favorite seasoning blend for pork.
Nutrition
Calories:
194
kcal
|
Carbohydrates:
2
g
|
Protein:
24
g
|
Fat:
9
g
|
Saturated Fat:
2
g
|
Cholesterol:
75
mg
|
Sodium:
55
mg
|
Potassium:
469
mg
|
Fiber:
1
g
|
Vitamin A:
65
IU
|
Calcium:
67
mg
|
Iron:
1.9
mg