Air Fryer Chicken Nuggets
Instead of giving frozen chicken nuggets made from who-knows-what to your family, why not try these quick and easy homemade Air Fryer Chicken Nuggets instead?!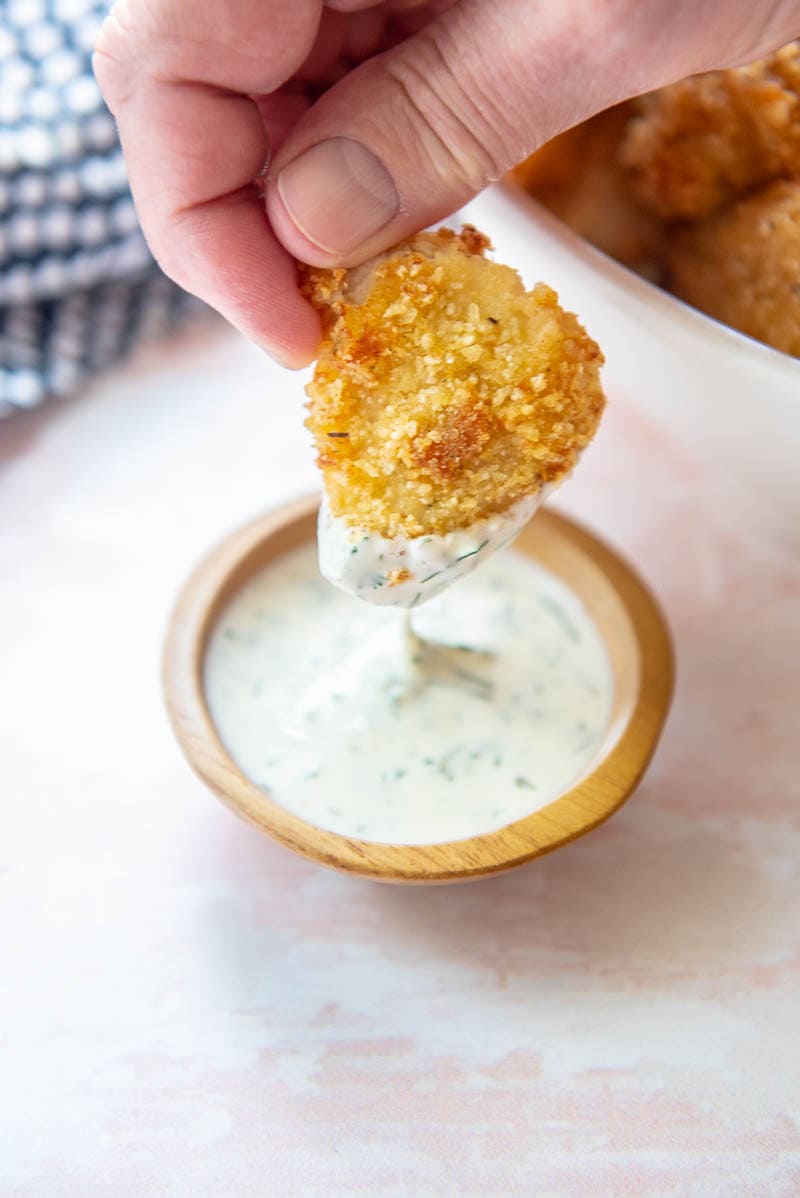 We all know that kid (or adult!) who always orders the same thing at every restaurant. Around here, we have several chicken nugget aficionados. Sometimes, we even rank restaurants according to how good their nuggets are! Needless to say, we eat them a lot. That fact led me to finding a way to make my own chicken nuggets that would not only taste great, but be healthier than anything my family could order when we're eating out.
My Chicken Nuggets recipe is gluten-free and dairy-free. No worries if you're feeding someone with food allergies! Plus, their coating uses potato chips–a yummy way to use up crumbs from the bottom of the bag. They're cooked in an air fryer and require very little prep. Your nuggets will be on the table in less than a half hour!
Still trying to find the right air fryer to buy? Here is the one I used for this recipe! I love that it has such a large capacity!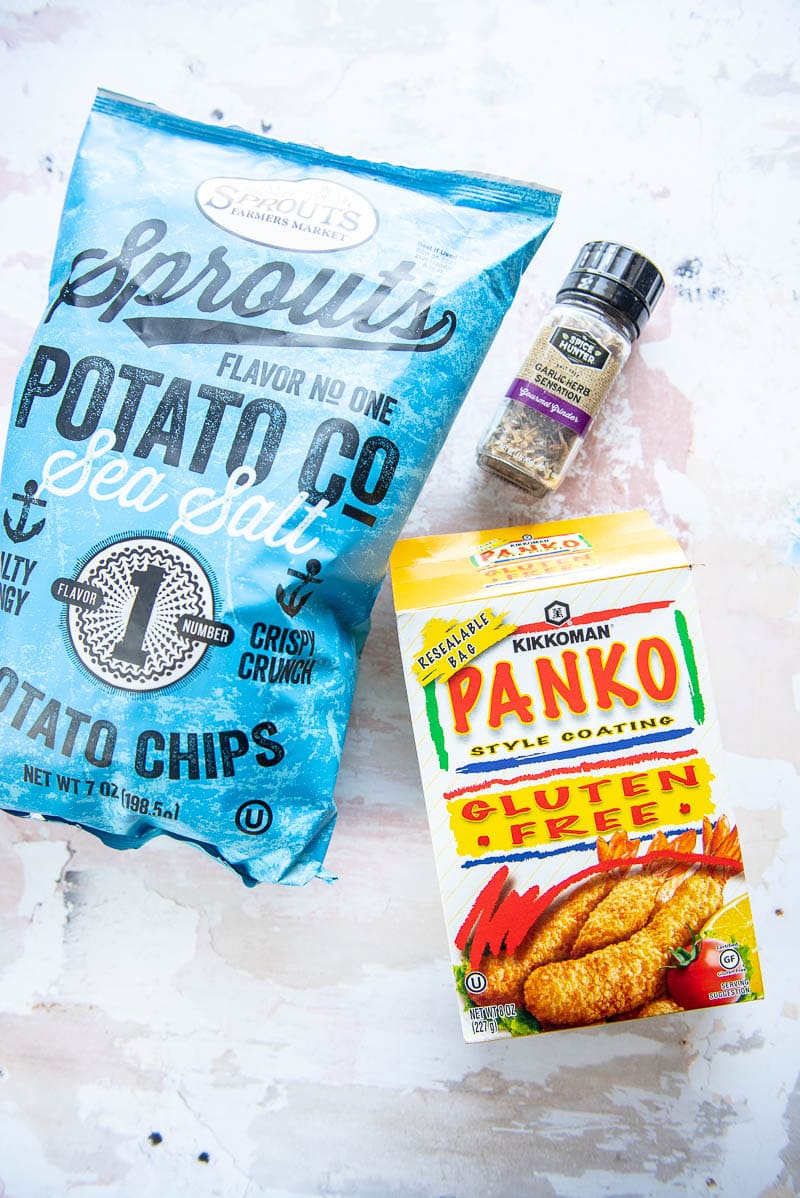 Ingredients
Can I use regular bread crumbs? You can, but your Chicken Nuggets won't be as crispy. Panko breadcrumbs are flakier than regular breadcrumbs and therefore produce a crispier end result.
What kind of potato chips should I use? Use any flavor or brand that you like! Experiment a little with the more savory varieties–even some of the seasonal flavors that show up from time to time in the grocery stores.
Which seasoning blend is best for Chicken Nuggets? Any high-quality seasoning blend will make your Chicken Nuggets taste delicious. I am partial to McCormick Garlic, Herb and Black Pepper and Sea Salt All Purpose Seasoning. Experiment with different seasoning blends and see which one you like best.
Preparation
How long do I cook chicken nuggets in an air fryer? Because they cook so hot and fast, making crispy Chicken Nuggets in the air fryer is almost too easy. You really have to keep an eye to make sure they don't burn. The nuggets in this recipe take only about 12 minutes to cook.
How do I make my Chicken Nuggets crispy? The crispy breading comes from using egg to help the breadcrumb, potato chip, and seasoning mixture bind to the chicken. Spraying the Chicken Nuggets with avocado oil before cooking helps, as well.
How do I chop up the crumb coating for my Chicken Nuggets? To make chopping super easy, I recommend this mini-chopper which I use to chop veggies and the like on an almost daily basis in my kitchen.
Serving Suggestions
What should I serve with Chicken Nuggets? So many side dishes pair well with air fried chicken–the possibilities are endless! You can serve Chicken Nuggets with traditional fried foods such as french fries or sweet potato fries, waffle fries, tater tots, or potato wedges. For a lighter choice, choose a side salad or fresh veggies. And, don't forget the dip! Try your hand at making some of my homemade Dairy-Free Ranch Dressing, Cajun Dipping Sauce, Yum Yum Sauce, or Blue Cheese Dipping Sauce.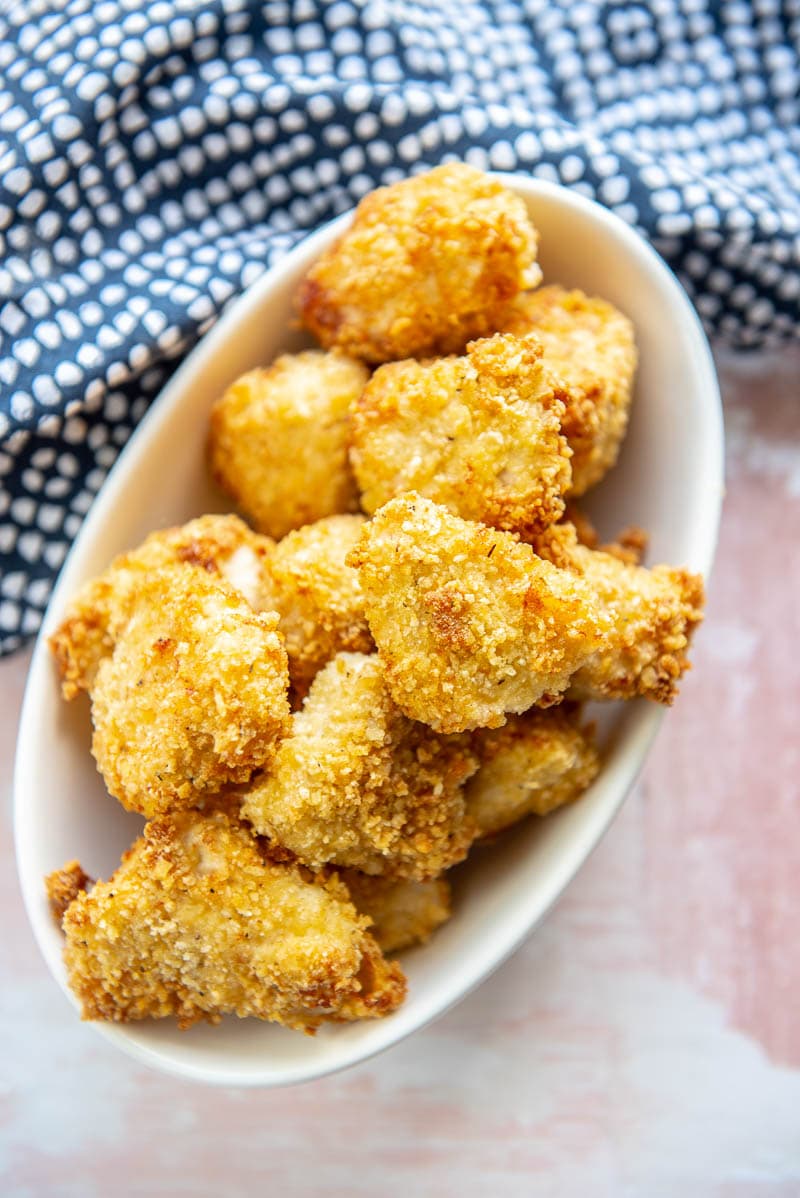 Related Recipes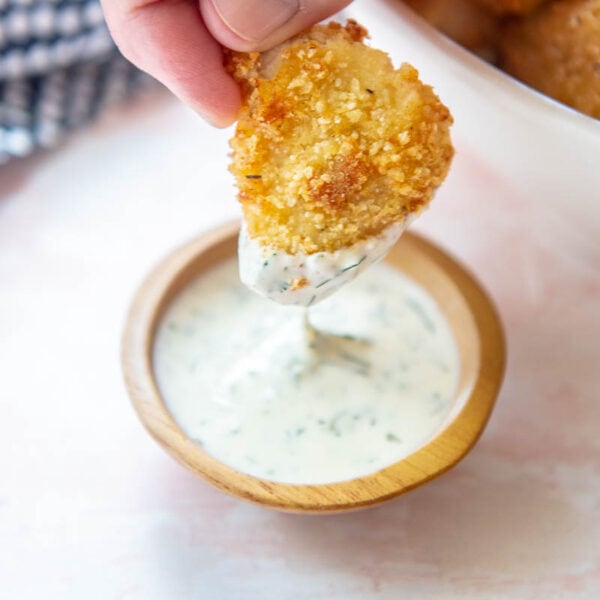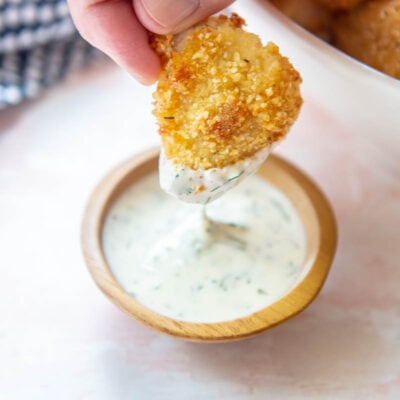 Air Fryer Chicken Nuggets
Print Recipe
Instead of giving frozen chicken nuggets made from who knows what to your kids, why not try these quick and easy to make homemade Air Fryer Chicken Nuggets instead?!
Add to Collection
Go to Collections
Instructions
Slice chicken into thirds lengthwise (nugget size)

Beat eggs in bowl until smooth

Crush chips, breadcrumbs and seasoning until fine crumbs using food processor or chopper

Spray basket of air fryer generously with avocado spray

Dip chicken into eggs and then into coating and place in single layer in air fryer

Spray nuggets generously with avocado spray

Cook at 380 degrees for 10-12 minutes, flipping once, until chicken is cooked through and coating is crispy and golden
Notes
use fingers to press coating into chicken before air frying
use tongs to carefully flip without losing coating
leftovers can be reheated for a few minutes in the air fryer
Nutrition
Calories:
302
kcal
|
Carbohydrates:
18
g
|
Protein:
30
g
|
Fat:
11
g
|
Saturated Fat:
2
g
|
Cholesterol:
155
mg
|
Sodium:
354
mg
|
Potassium:
725
mg
|
Fiber:
1
g
|
Sugar:
1
g
|
Vitamin A:
175
IU
|
Vitamin C:
4
mg
|
Calcium:
81
mg
|
Iron:
2.2
mg