I've been making (and eating!) guacamole for years and I've got the easiest and best recipe that will have everyone begging you to bring the apps to the party! This Easy Guacamole Recipe is the only one you need!

I mean, who doesn't need a homemade easy guacamole recipe in their back pocket? I've never been to party that couldn't benefit from a delicious bowl of guacamole for people to gather around.  Or a football game where the spectating couldn't be improved by consuming delicious guac and crunchy chips? Right? Okay, now that we are all on the same page, let's talk about how hard it is to make homemade guacamole instead of buying the pre-made stuff at the store.  The answer, not hard at all.  It only takes a few minutes and minimal dicing to make this guac.  I'll even give you a few secret tips on where it's okay to cut some corners if you are sort on time.
How do you make basic guacamole?
put everything in a bowl and mash! (okay, that's over simplified but it's not much harder than that)
most people add tomatoes, I don't! They can add a funny texture and can make it kind of runny, so I just leave them out.
onions and jalapeños are a must, plus some garlic as a bonus
dried spices can be used in place of fresh in a pinch, I do this all the time
Let's talk chips! Such an important aspect when it comes to the whole guacamole experience.  You can't have chips breaking off into the dip bowl.  Things start to get super awkward when that happens.  I mean, do you reach in and get it? Leave it and pretend it didn't happen? Grab another chip and try to dig it out?  Just get yourself some nice thick chips and just avoid that whole situation that can kill the vibe of your awesome chip dipping party.  Personally, I love the Tostitos Cantina chips (not the thin and crispy ones, those are awesome with salsa) or  something similar.  I'd shy away from scoop style chips unless the guac is just for you.  They are awesome but people will get such a huge scoop of guac with each chip that it will be gone way to fast.
How do you make easy guacamole dip even easier?
*Before you read this you may want to scroll down and see the original recipe, then come back for the shortcut tips*
Use frozen avocado chunks!! For real! They have these at most grocery stores now and they are just flat out amazing.  People showing up last minute? Have these on hand and whip up an impressive batch of guac on a dime.
used canned or frozen diced jalapeño.  Again, easy to keep on hand and throw in at a moments notice (same with the onion, in fact)
dried cilantro and garlic work so well I often use those and never bother with the fresh stuff
So, do you already have a tried and true easy guacamole recipe you use, or are you ready to give this one a go and see if you are now going to be the designated dip maker at all future parties and family gatherings?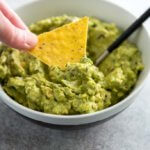 Easy Guacamole Recipe
I've been making (and eating!) guacamole for years and I've got the easiest and best recipe that will have everyone begging you to bring the apps to the party! This Easy Guacamole Recipe is the only one you need!

Ingredients
2

avocados

large or 3 smaller

1

tablespoon

lime juice

fresh or bottled

1

tablespoon

diced red onion

1

tablespoon

diced jalapeno

ribs and seed removed

1

teaspoon

chopped garlic

1

teaspoon

chopped cilantro

1/2

teaspoon

dried cumin

salt & pepper

to taste
Instructions
Cut avocado in half and remove pit and peel skin

Dice into large chunks and add to bowl along with remaining ingredients except salt and pepper

Mash to desired consistency (I like it pretty smooth) and taste

Add salt and pepper to taste and mix again before serving
Recipe Notes
Can be made up to a couple of hours ahead of time and stored with plastic wrap pressed tightly over the top to remove any air and then with a lid on the container
See above blog posts for tips on shortcuts
Any of the ingredient quantities can be adjusted to taste.  Play around and make it your own.
Nutrition Facts
Easy Guacamole Recipe
Amount Per Serving
Calories 82
Calories from Fat 63
% Daily Value*
Total Fat 7g 11%
Sodium 3mg 0%
Potassium 248mg 7%
Total Carbohydrates 4g 1%
Protein 1g 2%
* Percent Daily Values are based on a 2000 calorie diet.
Can't get enough avocado? Try my Avocado Corn Salsa!!