Butternut Squash "Pasta" with Kale and Goat Cheese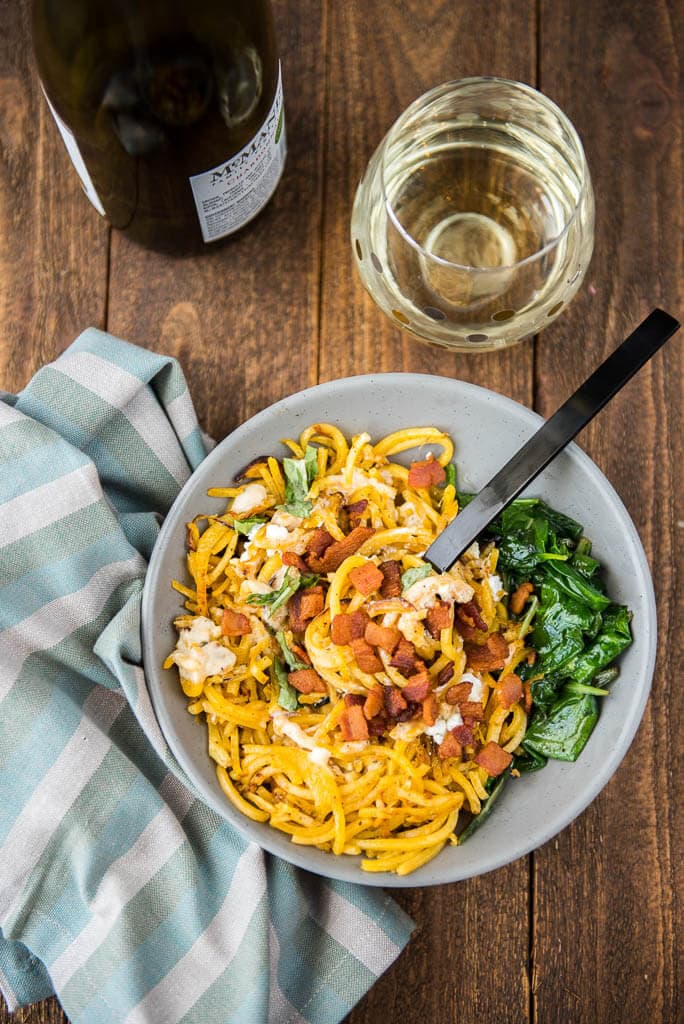 I feel the need to issue a warning here! While this is totally a swap pasta for veggies recipe that also happens to include kale, you must know that it also includes it's fair share of bacon, butter and goat cheese. So while totally nutritious, I wouldn't exactly call it light. But that's okay right? Because life is all about balance. Veggie and bacon together in one recipe? I'd call that the perfect balance!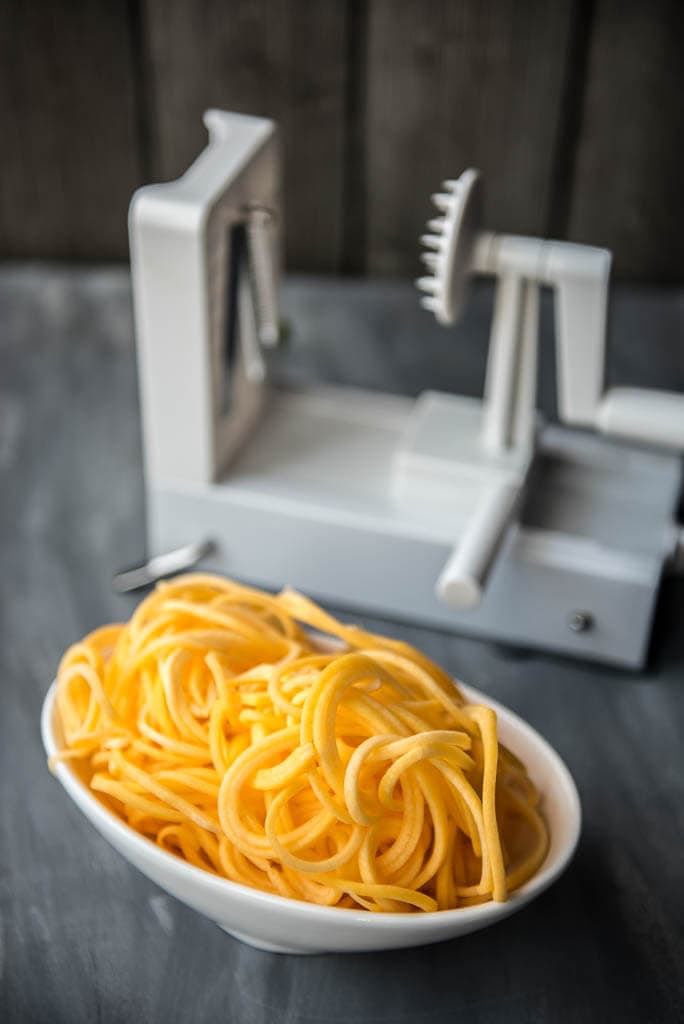 It had been a long time (way to long) since I had spiralized any veggies, and the other day I found a new spiralizer I wanted to try out! So, needless to say, I've been on a spiralizing kick lately. I've even been trying out veggies I had never tried before, like this butternut squash! These happen to make some amazingly delicious noodles, so much so that in this particular recipe, I would never choose traditional pasta in it's place.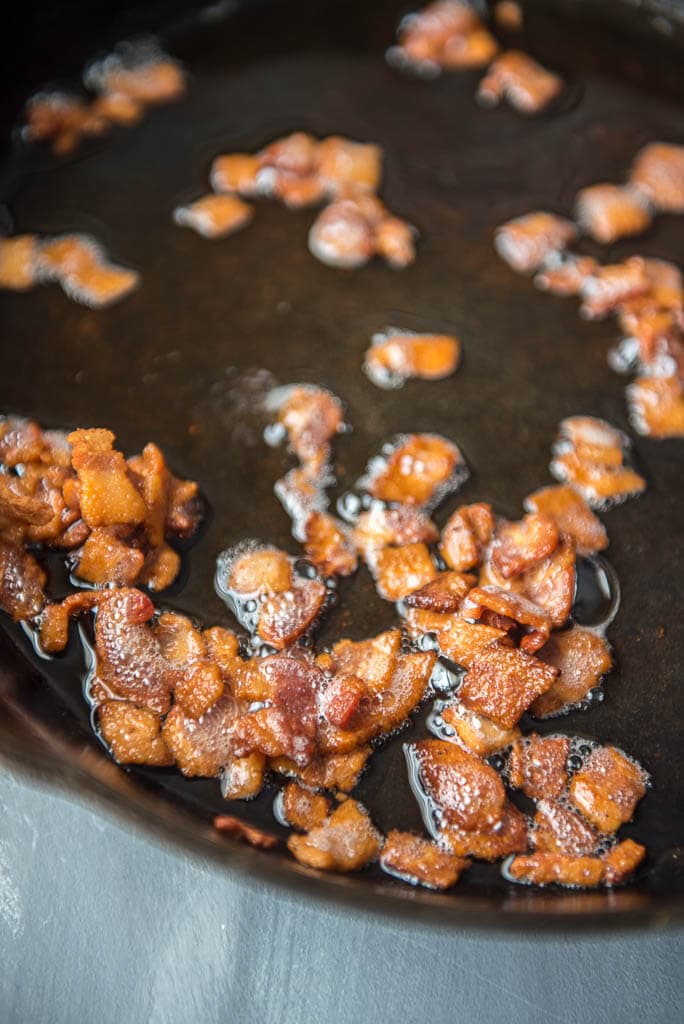 Of course, this recipe all really begins with bacon 😉 It's basically a one skillet recipe in layers that builds on cooking up some nice crispy bites of bacon and keeps getting better from there. After cooking the bacon, you will remove it from the pan, pour off the grease, and use just enough of that bacon grease to sauté your kale! If you thought you didn't like kale, then you haven't had it like this. So delicious.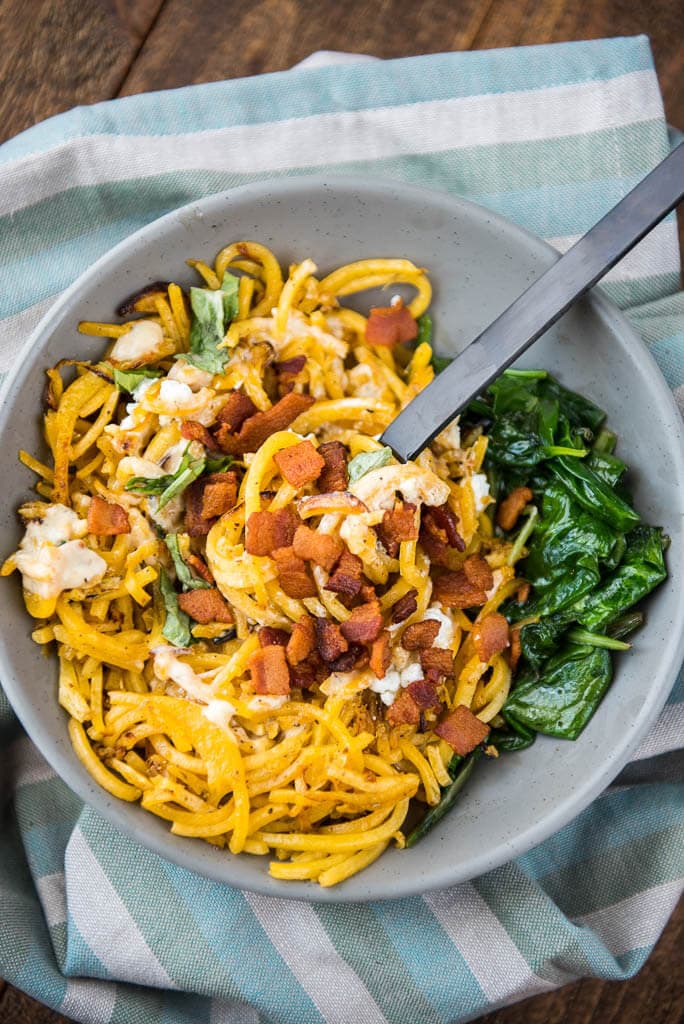 Finally, it's time to brown up a little butter and use that to saute the "noodles". Have you tried brown butter? It's basically cooking the butter until it browns (obviously) but don't let it burn. It develops this nutty rich flavor that is so perfect for veggies and pasta. And cheesecake. But anyway.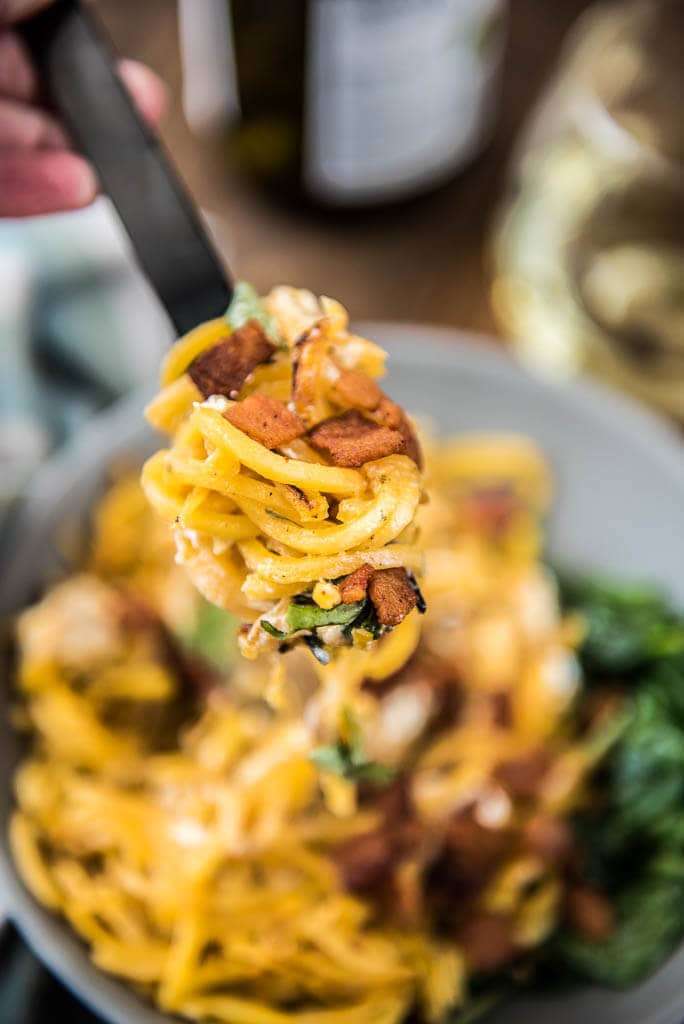 Top it all off with plenty of goat cheese and some parm, and a wonderful, rich, tasty dinner that just happens to be packed with plenty of veggies is served. Another side note, this recipe is is for two. But it does work well as leftovers too, so you could just keep it all for yourself.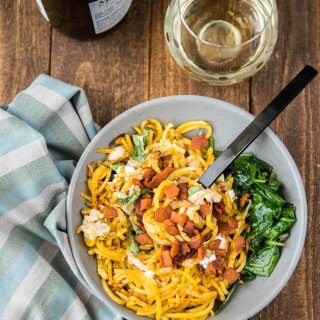 Butternut Squash "Pasta" with Kale and Goat Cheese
Print Recipe
Add to Collection
Go to Collections
Ingredients
1

large butternut squash

2-3 pounds - see note

3

pieces

thick cut bacon

4-6

oz

baby kale

1

tablespoon

olive oil

1/4

t

sage

1/4

t

thyme

4

tablespoons

butter

4

oz

crumbled goat cheese

1/4

cup

shredded parmesan cheese
Instructions
Peel the skin off squash and remove the bulb end

Place in spiralizer according to instructions and spiralize into spaghetti sized noodles

Heat skillet over medium high heat

Chop bacon and add to heated skillet

Cook until crispy and then remove to paper towel to drain

Drain off grease and reserve, add a couple of tablespoons of grease back to pan

Saute kale for 2-3 minutes until wilted in bacon grease, remove from pan and set aside

Add a little olive oil to pan if needed

Add squash noodles, sage and thyme and let saute until softened to desired tenderness, about 5-8 minutes

Slice butter into 4 pieces and add to pan

Let melt until it just start to develop golden brown bit and starts to smell nutty, whisk smooth

Whisk in cheeses until melted and then toss with noodles

Serve with a helping of kale and top with bacon crumbles
Notes
The part of the butternut squash that can be spiralized is the longer thinner part without the seeds/core. Depending on what size you can find, you may need two of these to serve two people.