Instant Pot Hot and Sour Soup
Craving hot and sour soup but don't want all the extra work? Making hot and sour soup in an Instant Pot is a great way to enjoy the classic Chinese taste without all the waiting. You can make your own version of this savory dish in minutes—from start to finish! This delicious soup is easy, delicious, healthy, and oh-so-satisfying. Plus, you get that authentic flavor without extra effort or time spent feeding your craving.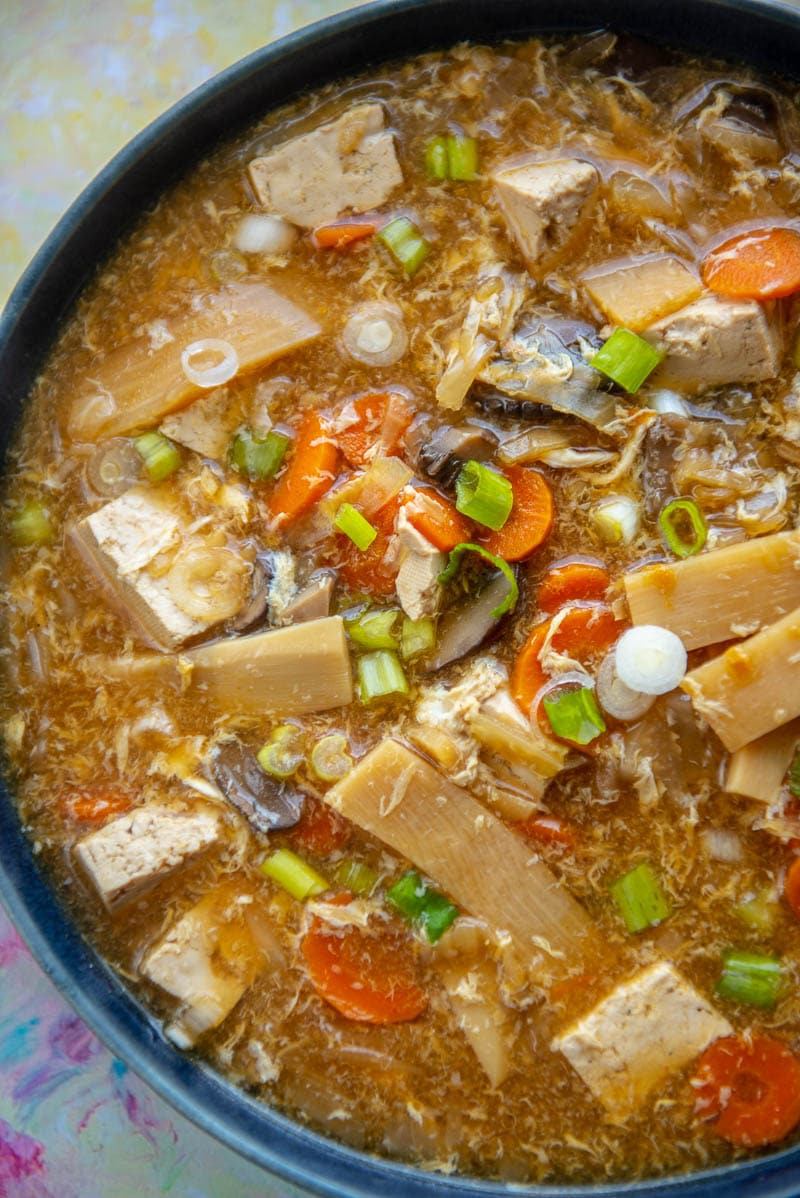 Hot and sour soup is a classic Chinese dish that combines the flavors of sweet, sour, and spicy. It's traditionally made with pork or chicken broth, tofu, mushrooms, bamboo shoots, and egg whites. The soup has a tangy flavor from vinegar and black pepper while chili garlic sauce adds heat. This hearty combination makes it both comforting and flavorful—a perfect meal for any time of day! The best part about this great recipe is that pressure cooking speeds up the process so that you can enjoy this soup any time!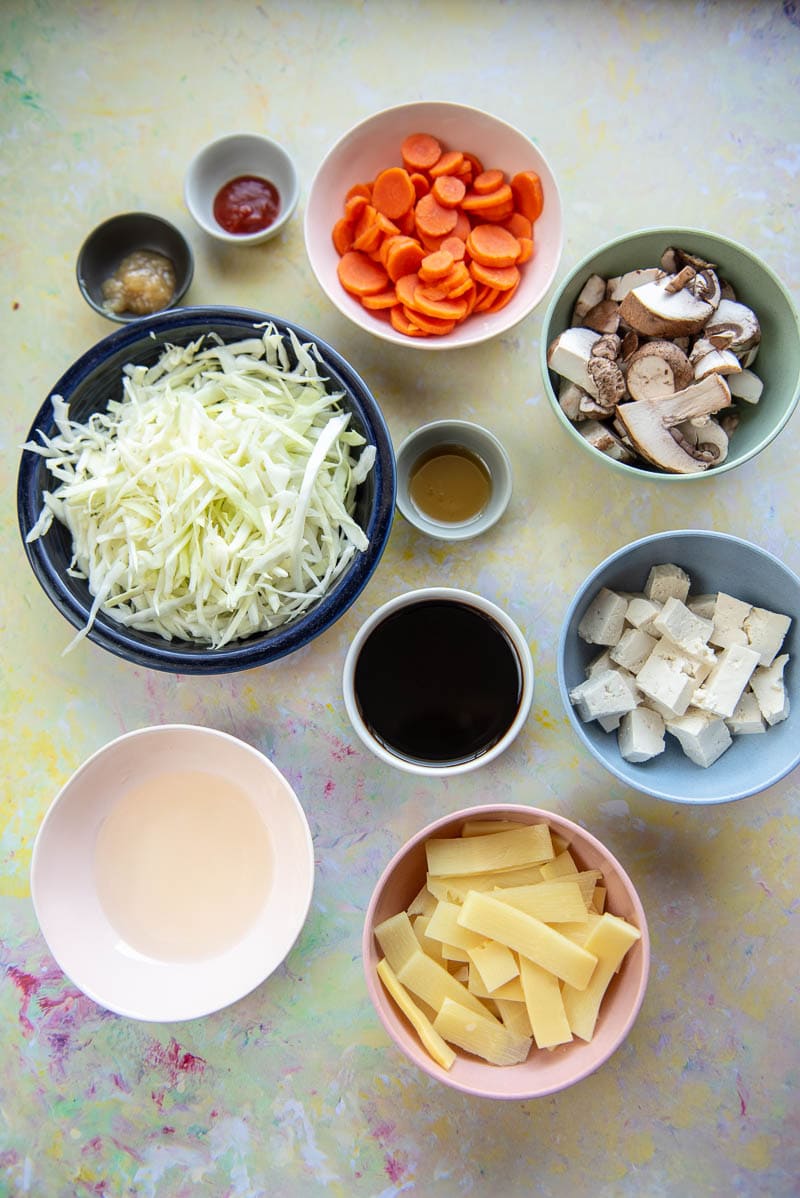 Essential Ingredients
Carrots offer many health benefits due to their high nutrient content. They are a good source of dietary fiber, as well as vitamins A, C, K, and B6. Carrots are also rich in the antioxidant beta-carotene, which converts to vitamin A in the body and helps maintain healthy vision.
Portobello mushrooms are a type of mushroom that have a rich, earthy flavor. They are often used in place of meat because they have a similar texture and can absorb the flavors of other ingredients. Portobello mushrooms add an umami flavor to dishes, making them more flavorful and satisfying. They also provide essential vitamins and minerals like iron and potassium, as well as dietary fiber for better digestion. The unique flavor of portobello mushrooms makes them an excellent addition to many recipes including soups!
Firm tofu is a versatile ingredient that can be used in many dishes. It has a firm texture and mild flavor, making it the perfect base for adding flavors to your recipes. Tofu is also a great source of protein, with 8 grams per cup, and provides essential minerals like iron and calcium. When cooking with firm tofu, it's important to drain and press it first to remove any excess water.
Bamboo shoots are the edible shoots of bamboo plants, and they have been a part of Asian cuisine for thousands of years. Not only do they have a unique and delicious flavor, but they are also incredibly nutritious! Bamboo shoots are full of vitamins, minerals, antioxidants, amino acids, and dietary fiber.
Ginger paste is a great way to add instant flavor and aroma to your dishes. It can be used in stir-fries, sauces, soups, marinades, and more! The paste has a strong ginger flavor which adds warmth and depth of flavor to any dish. Ginger paste is also an easy alternative to freshly grated or chopped ginger root if you don't have it on hand. Plus, it's much less time-consuming than prepping fresh ginger root!
Green Cabbage – the most important thing to look for is freshness. Look for cabbages that are firm and heavy with crisp, dark-green leaves. Avoid any cabbages that have yellowing or wilted leaves as they will be past their prime. Additionally, make sure there are no soft spots on the exterior of the cabbage head – this could indicate discoloration or rot underneath. Smell it too; if it has an unpleasant odor then it's not fresh! Lastly, look for smaller heads of cabbage as these tend to be more tender and flavorful than larger ones.
Chicken stock is an essential ingredient in hot and sour soup. It adds a depth of flavor that can't be replicated with water or any other type of liquid. The rich, savory chicken broth provides the perfect backdrop for all the other flavors in this dish. Chicken stock also adds protein and minerals like calcium, phosphorus, iron, magnesium, and potassium to your meal – making it even healthier! For even more health benefits, try using Chicken Bone Broth!
soy sauce or tamari (if gluten-free) – Soy sauce adds a savory, salty flavor that complements the tangy and spicy notes in the soup.
Rice vinegar adds a bright, acidic flavor. It is milder than other types of vinegar and helps to balance out all the flavors in the soup.
Sriracha is used to add heat and flavor to dishes. It has a spicy kick that pairs perfectly with the mild sourness of this soup. You could also add some red pepper flakes if you really want a kick.
sesame oil – a few drops of sesame oil adds an intense nutty flavor to the soup.
Tapioca flour is used to help thicken the soup and give it a creamy texture.
Green onions are a great addition to many dishes, including hot and sour soup. As a garnish they add a mild onion flavor and a bit of crunchy texture. Plus, they're packed with vitamins and minerals like vitamin A, vitamin C, calcium, magnesium, and iron!
Eggs are a great way to add protein and creaminess to your soup. They also help to thicken the broth, giving it a nice body. I prefer to use cage-free organic eggs.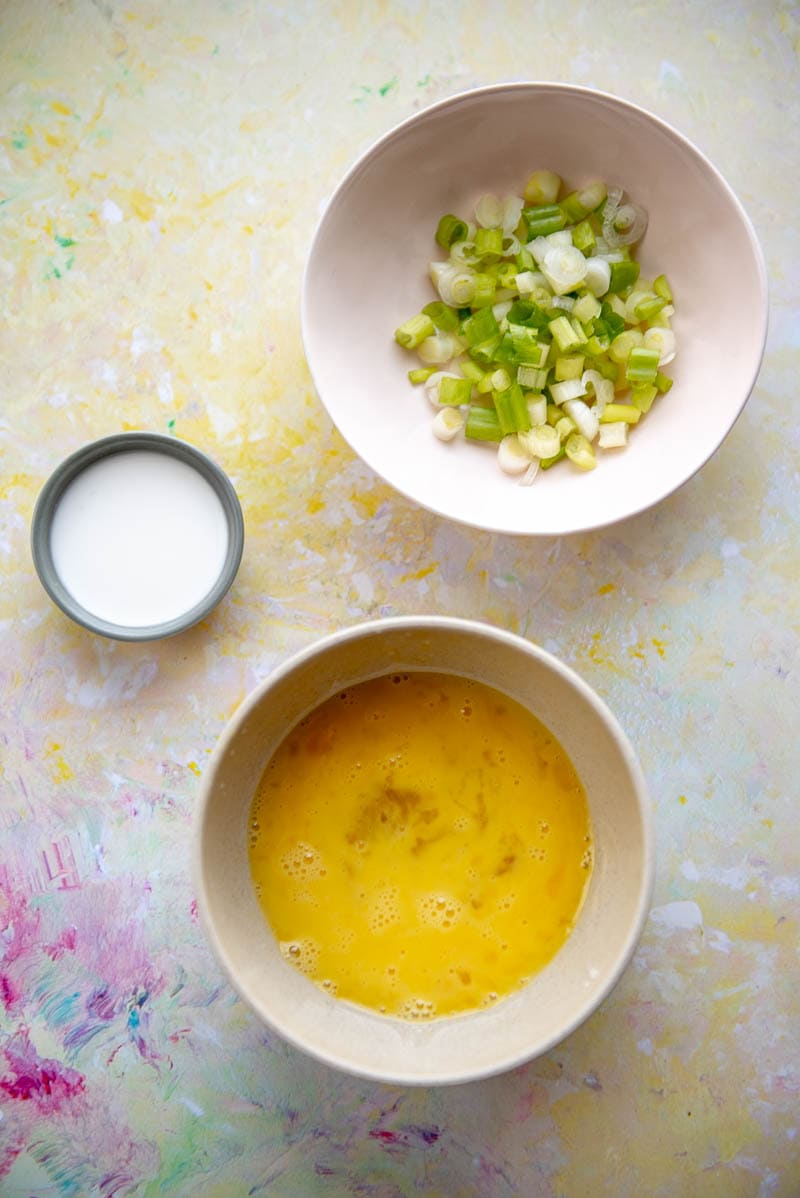 Ingredient Swaps
Missing an ingredient but still want to make this recipe? Check out some ingredient swaps below and see if you can save a trip to the store!
Portobello mushrooms can be swapped out for shiitake mushrooms or even button or cremini mushrooms.
Firm tofu can be replaced with extra-firm tofu, tempeh, or seitan but I don't recommend using soft tofu
Bamboo shoots can be substituted with water chestnuts.
Ginger paste can be replaced with freshly grated ginger root.
Chicken stock can be replaced with vegetable or mushroom broth.
Soy sauce or tamari can be swapped out for coconut aminos.
Rice wine vinegar can be swapped out for white wine vinegar or apple cider vinegar. I don't recommend regular white vinegar as it will be too strong.
Sriracha can be replaced with a few dashes of hot sauce, like Tabasco Sauce
Tapioca flour can be swapped out for arrowroot powder or corn starch.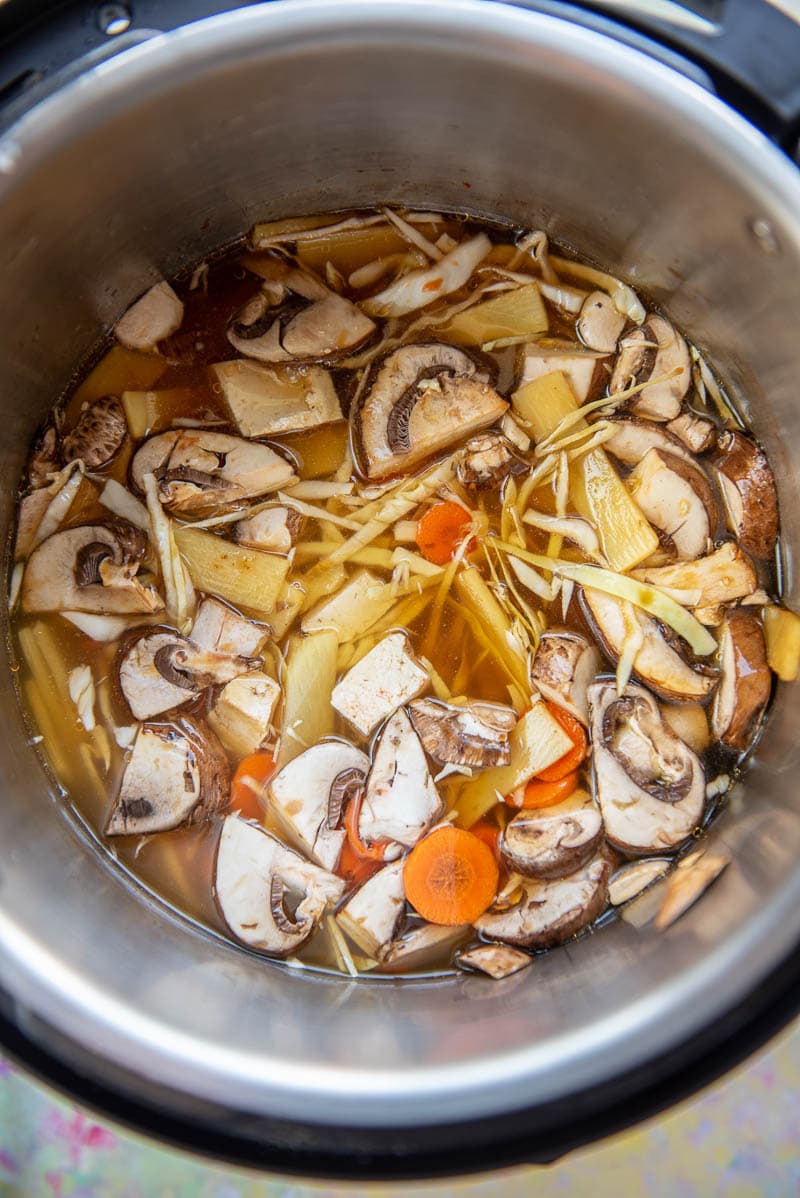 How to Make Hot and Sour Soup in the Instant Pot
Making hot and sour soup in an Instant Pot is a quick and easy way to enjoy this delicious dish. With just a few simple ingredients, you can create an amazing meal that's full of flavor.
Start by adding all your ingredients except for green onions, tapioca flour and eggs into the instant pot. Seal it up and set it to high pressure for 4 minutes before allowing at least 10 minutes of natural pressure release.
Then remove the lid, set it to saute mode, and whisk together tapioca flour with water in a small bowl until smooth before adding it to the soup.
Finally, drizzle in whisked eggs while stirring continuously in a circular motion until fully incorporated before serving with some fresh green onions on top!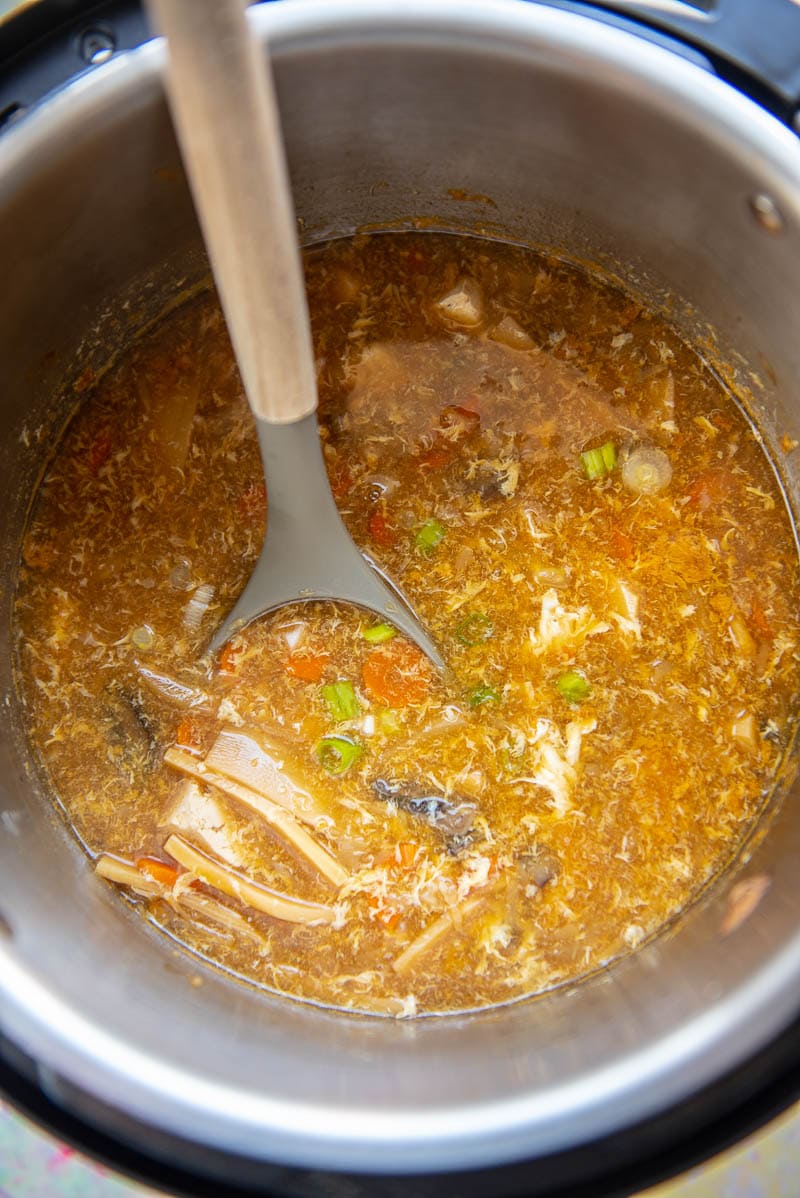 Tips and Tricks
Make sure to whisk the tapioca flour and eggs together with a bit of water before adding them to your instant pot. This will help to prevent clumping and ensure a smooth, creamy soup.
For an even richer flavor, try using chicken bone broth instead of regular chicken stock.
If you don't have instant pot, you can make this soup in a slow cooker on low for 5-6 hours.
If you're vegan or vegetarian, try swapping out chicken stock for vegetable broth and adding extra-firm tofu instead of eggs!This soup would also be delicious with some fresh vegetables added as well.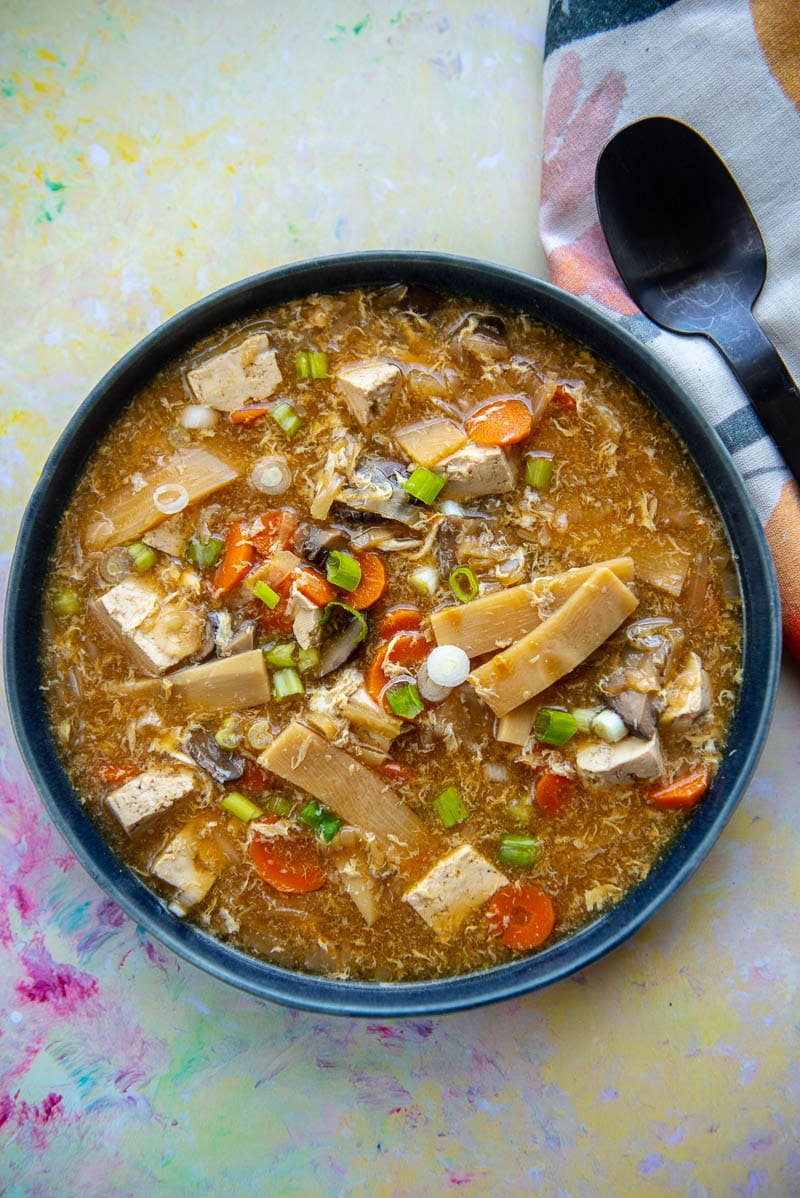 Common Questions
Is hot and sour soup healthy?
Yes it can be! Hot and sour soup is packed with healthy ingredients like mushrooms, carrots, bamboo shoots and eggs which are all full of vitamins and minerals. Plus, it's low in calories and low carb making it a great option for those looking to eat healthier.
Can I make this without an instant pot?
Yes. You can make this soup in a slow cooker on low for 5-6 hours or stovetop in a large pot over medium heat for about 30 minutes.
Can I freeze hot and sour soup?
Yes, you can. Allow the soup to cool completely before transferring it into an airtight container. When ready to serve, thaw it in the refrigerator overnight and reheat on the stovetop or microwave.
Why is my hot and sour soup bitter?
If your soup tastes too bitter, try adding a pinch of sugar to balance out the flavors. You can also add a few drops of sesame oil before serving to help cut some of the bitterness.
Can I use dark soy sauce?
Yes, you can but it will give the soup a darker, deeper flavor. If using dark soy sauce, reduce the amount by half as it is saltier and stronger than regular soy sauce.
Can I do a quick release on the Instant Pot?
I don't recommend this when making soup as it could splatter and burn you. Allow at least 10 minutes of natural pressure release before releasing any remaining pressure.
Can I add meat to this soup?
Yes, you can. You can add cubed chicken breast, shredded chicken or pork to the instant pot before pressure cooking or in the last few minutes of cooking on sauté mode.
Hopefully, this post has given you all the information you need to make this flavorful soup. Share with us your favorite version in the comments below! Happy cooking!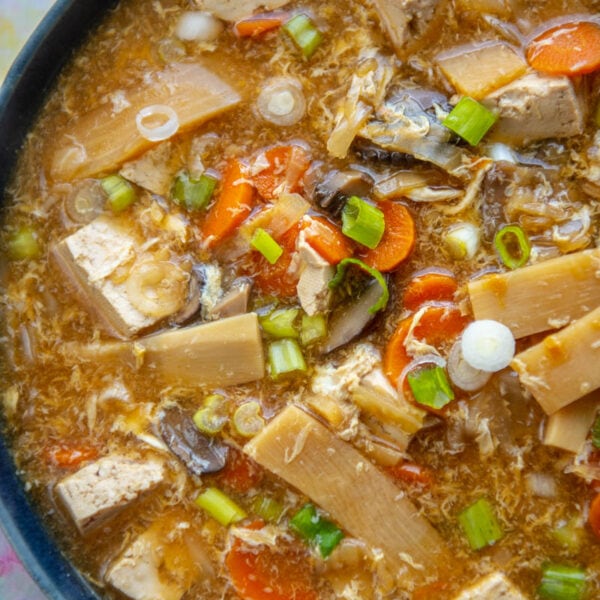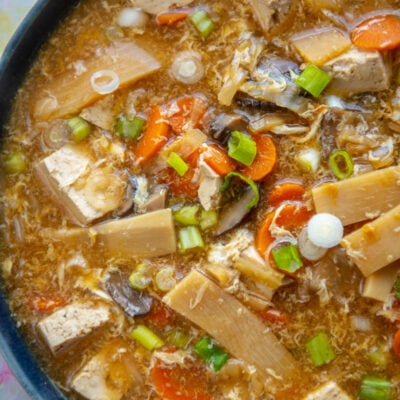 Instant Pot Hot and Sour Soup
Print Recipe
Craving hot and sour soup but don't want all the extra work? Making hot and sour soup in an Instant Pot is a great way to enjoy the classic Chinese taste without all the waiting.
Add to Collection
Go to Collections
Ingredients
1

carrot

peeled and thinly sliced

4

oz

sliced portobello mushrooms

4

oz

firm tofu

cut into bite sized pieces

4

oz

bamboo shoots

drained and chopped

1

teaspoon

ginger paste

2

cups

green cabbage

thin sliced

4

cups

chicken stock

1/4

cup

soy sauce

or tamari if gluten free

3

tablespoons

rice vinegar

1

teaspoon

sriracha

1

teaspoon

toasted sesame oil

1

tablespoon

tapioca flour

1/4

cup

diced green onions

2

small eggs

or one large
Instructions
Add all ingredients except green onions, tapica flour and eggs to Instant Pot

Seal and set to high pressure for 4 minutes

Allow at least a 10 minute natural pressure release before releasing any remaining pressure

Remove lid and set pot to saute

Whisk tapioca flour with and equal amount of water until smooth and then add to soup

Whisk eggs until smooth and slowly drizzle into bubbling soup while stiring

Let simmer for 2-3 minutes

Serve garnished with green onions
Nutrition
Calories:
132
kcal
|
Carbohydrates:
12
g
|
Protein:
10
g
|
Fat:
5
g
|
Saturated Fat:
1
g
|
Polyunsaturated Fat:
1
g
|
Monounsaturated Fat:
2
g
|
Trans Fat:
1
g
|
Cholesterol:
59
mg
|
Sodium:
823
mg
|
Potassium:
378
mg
|
Fiber:
2
g
|
Sugar:
5
g
|
Vitamin A:
1850
IU
|
Vitamin C:
11
mg
|
Calcium:
57
mg
|
Iron:
1
mg