The Garnished Plate Guide to Cooking a Turkey is the ultimate guide to a fuss-free, simple holiday turkey that your family will love.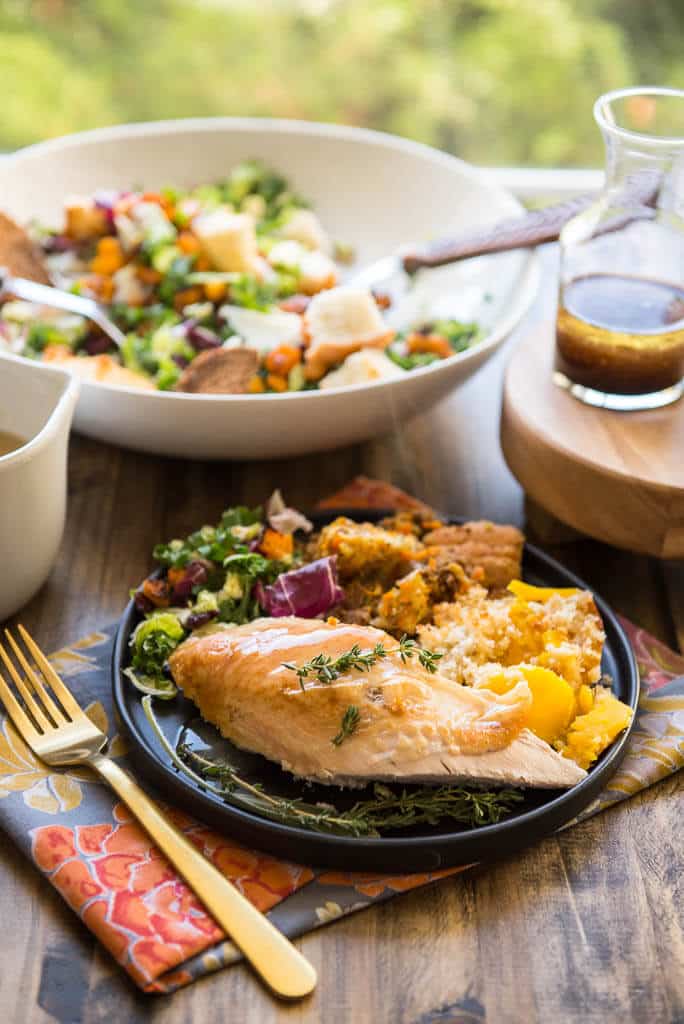 Cooking a turkey can seem like a totally intimidating task. It's not something we do everyday and if you haven't ever hosted a holiday meal than you may have never done it at all! After many years of watching my mom and then eventually helping my mom and now after years of making my own turkeys, I finally feel like I can share what I've learned and hopefully help someone else out there who may hosting Thanksgiving this year and feeling a little stressed about the turkey.  This is my Garnished Plate Guide to Cooking a Turkey that I've poured my passion for cooking into and would love to add to as I get more questions and feedback so that I can make this the ultimate stress-free guide! And much thanks should be given to my mom for teaching all of this to me!! This is her turkey recipe and I'm so thankful to have learned it!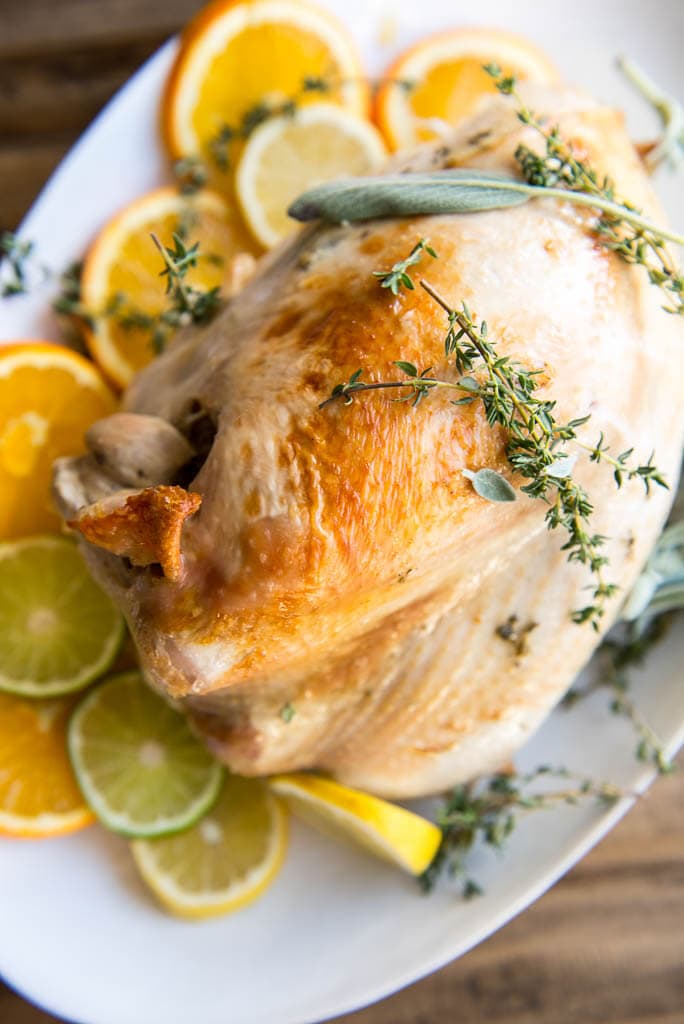 Of course, the first thing you need to do is decide what kind of turkey you want to buy.  Your options (for uncooked turkeys) are:
fresh, not frozen – order from the market and pick up within a couple of days of cooking.  The pro to this is you don't have to stress about thawing, the con is just making sure you have time to pick it up.
frozen – usually on sale (often for less than $1 per pound) and can be purchased well in advance as long as you have freezer space. The pro is that it's less expensive and you can have it on hand, the con is that you have to hassle with thawing
breast only – these can be bone-in or bone-out but for a holiday meal you probably want to go bone in.  Great for smaller gatherings and when you don't have any use for the dark meat. These can be found frozen or not at many markets.
Then you need to decide what size turkey you need.  The general rule is about 1 1/2 – 2 pounds per person.  I like to factor in leftovers and so I usually get as big a bird as I can find, around 25 pounds, for generally around 12 -15 people.
What you'll need to cook the turkey:
an oven – but if you don't have one don't despair. You can also use a large roaster.
a roasting pan large enough to hold the bird, it will need to be at least 2 inches deep to hold drippings
oven bags, not required but this is what I use, otherwise you'll need to baste
butter and dried herbs
citrus fruit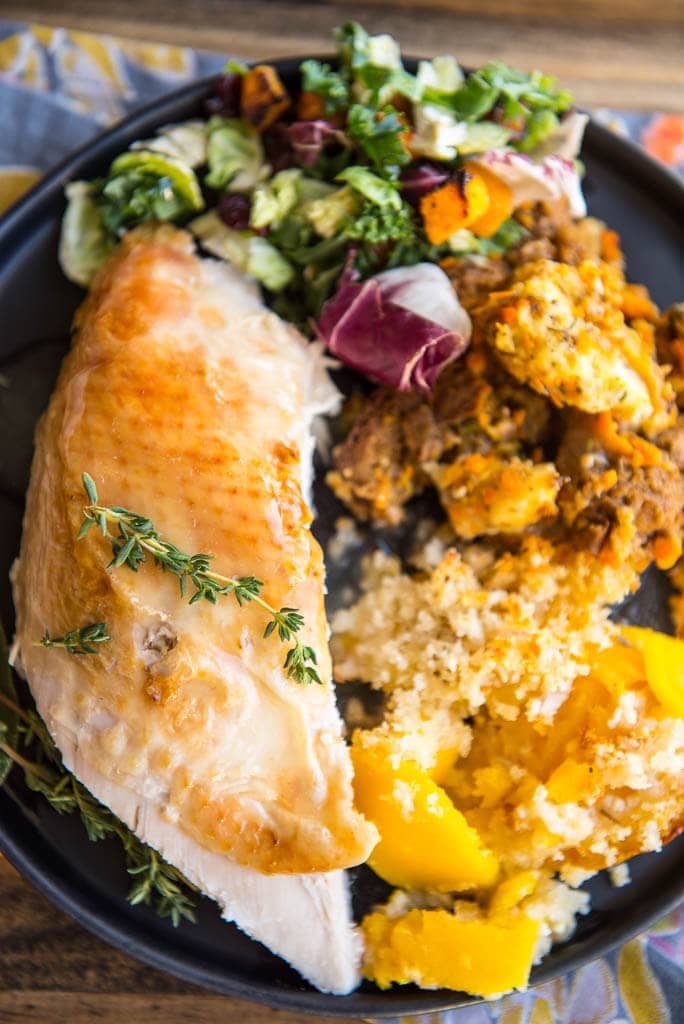 Now, I know a lot of people like to brine their turkey, but this is not what I do.
Since I use the oven bags, my turkey stays moist and I skip the extra work.  A little side note about the oven bags because I know there will be some feelings about this: I generally never cook in plastic, I don't use slow cooker liners, etc. as a personal choice.  However, once a year, when I cook a turkey, I choose to use the bag.  Make your own decision as to how you feel about this and proceed with your turkey as you best see fit for your family.
Preparing the turkey:
If frozen, you need to allow 24 hours for every 5 pounds of turkey.
Thaw in the fridge or in a bath of ice cold water you change often (I use a large cooler)
A day or two before, prepare your butter by bringing to room temp, adding herbs and returning to fridge (see recipe for more details)
On the morning of, carefully remove all packaging, clean the inside of any necks, giblets and dressing bags and pat dry
Set the butter out to come to room temp
Preheat your oven
Place on a washable work surface
Cut oranges, lemons and limes and fill up the inside cavity of turkey
Rub your herb butter all over the turkey, getting under the skin anywhere you can and making sure to really slather it up
Place in oven bag according to the instructions (flour and slit bag) and place in your roasting pan
Cook according to the timing on the oven bag packaging but keep in mind you will know for sure your turkey is done when it reaches 165° F in the breast and 180° in the thigh
Probably the most important advice so I'm going to bold it: Let your turkey REST before carving!!! At least 20-30 minutes.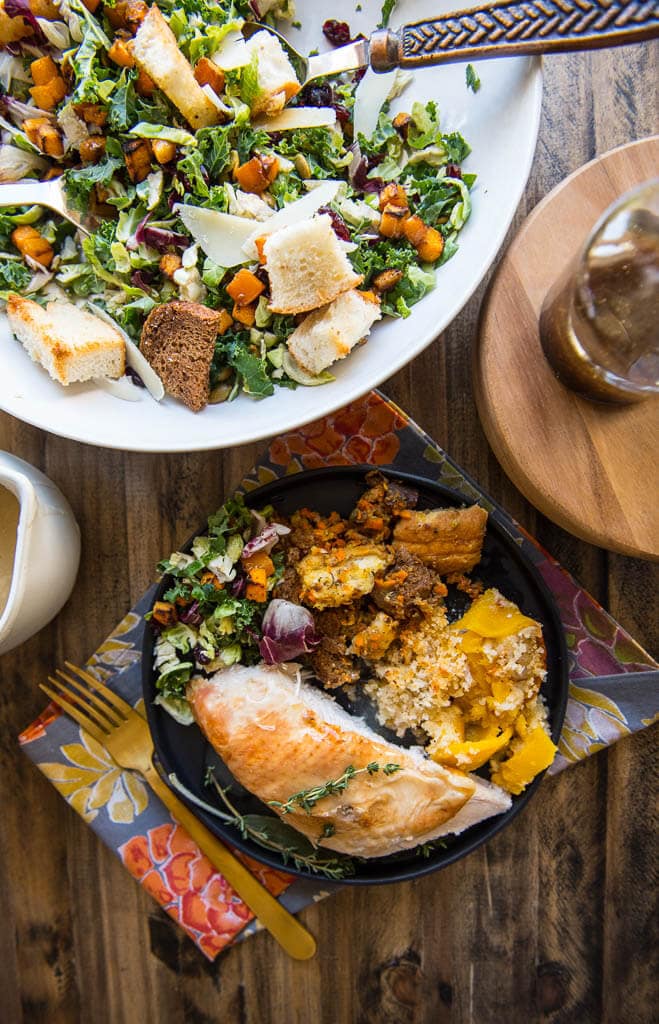 To carve make sure you carefully cut around the bones to remove the entire breast pieces first. Then slice against the grain at a slight angle.  Remove the wings and legs and then cut as much of the dark meat as you desire as well.  There are tons of video tutorials on this, so if feeling confused, take a look.
Finally… sit back, relax and enjoy that turkey!! And get someone else to do the dishes, you've worked hard!
Other recipes pictured in this post include:
One last thing here that probably should have been first. GRAVY! Save the drippings, every bit of them from the pan, run them through a strainer into a large measuring cup or bowl and use them to make the gravy.  I will include instructions in the recipe below!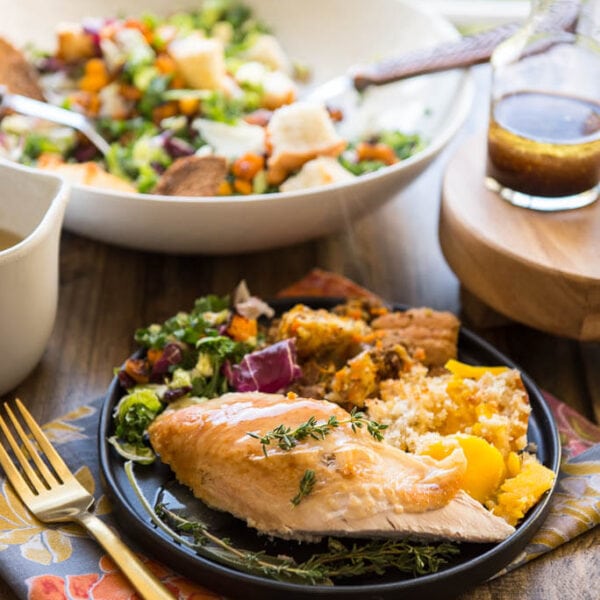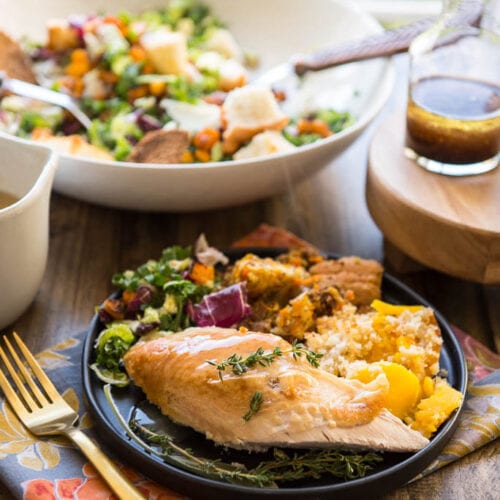 The Garnished Plate Guide to Cooking a Turkey is the ultimate guide to a fuss-free, simple holiday turkey that your family will love.
Print
Pin
Rate
Ingredients
20

pound

turkey

16

tablespoons

butter

1

teaspoon

dried crushed rosemary

1

teaspoon

dried thyme

1

teaspoon

dried rubbed sage

1

teaspoon

poultry seasoning

1

teaspoon

salt

2

oranges

2

lemons

2

limes

4

tablespoons

cornstarch
Instructions
See post for instructions on thawing and prepping turkey for cooking

Preheat oven to 350 degrees

Bring butter to room temperature and add seasonings (can be done up to 3 days in advance and refrigerated until day of, just bring to room temp before using)

Slice fruits and add to cavity of turkey

Rub outside and under skin of turkey with butter mixture

Place in oven bag that has been prepared with flour and slits (see package instructions) and into roasting pan

Roast for 2/12 to 3 hours until internal temp of breast is 165 degrees and thighs are 180 degrees

Remove and let rest for at least 30 minutes before carving

Strain all pan drippings and add to a sauce pan

Add 1 tablespoon of cornstarch to 1 tablespoon of water for every cup of drippings and whisk until smooth. Whisk into drippings and simmer over medium high heat until thickened. Add salt and pepper as desired.
Notes
Nutrition info has been estimated and will vary greatly depending on yield of turkey and whether you eat dark meat and gravy.  Please calculate your nutrition information independently depending on cooked product if this information is important to you.
This recipe is easily scaled down for 10 or 15 pound bird or up for a 25 pound bird.  Just ask if you have questions!!
Nutrition
Calories:
546
kcal
|
Carbohydrates:
9
g
|
Protein:
54
g
|
Fat:
32
g
|
Saturated Fat:
15
g
|
Cholesterol:
227
mg
|
Sodium:
671
mg
|
Potassium:
652
mg
|
Fiber:
1
g
|
Sugar:
3
g
|
Vitamin A:
770
IU
|
Vitamin C:
29.3
mg
|
Calcium:
57
mg
|
Iron:
2.6
mg
And just a few dessert options for good measure: