A simple Pumpkin Caramel Ice Box Cake that you can have all year round!  It will soon become a family favorite to make and enjoy!
I don't make a lot of desserts, therefore it's not likely I'll have a lot of them to share here but I enjoy baking from time to time with my daughter.  She likes to bake, but to be totally honest, I find baking recipes to be a bit stressful to make.  The instructions need to be followed very carefully and the recipes are quite precise.  I rather enjoy making things up as I go, switching  out ingredients, and basically just being a cooking rebel.  That's how this Pumpkin Caramel Ice Box Cake was created!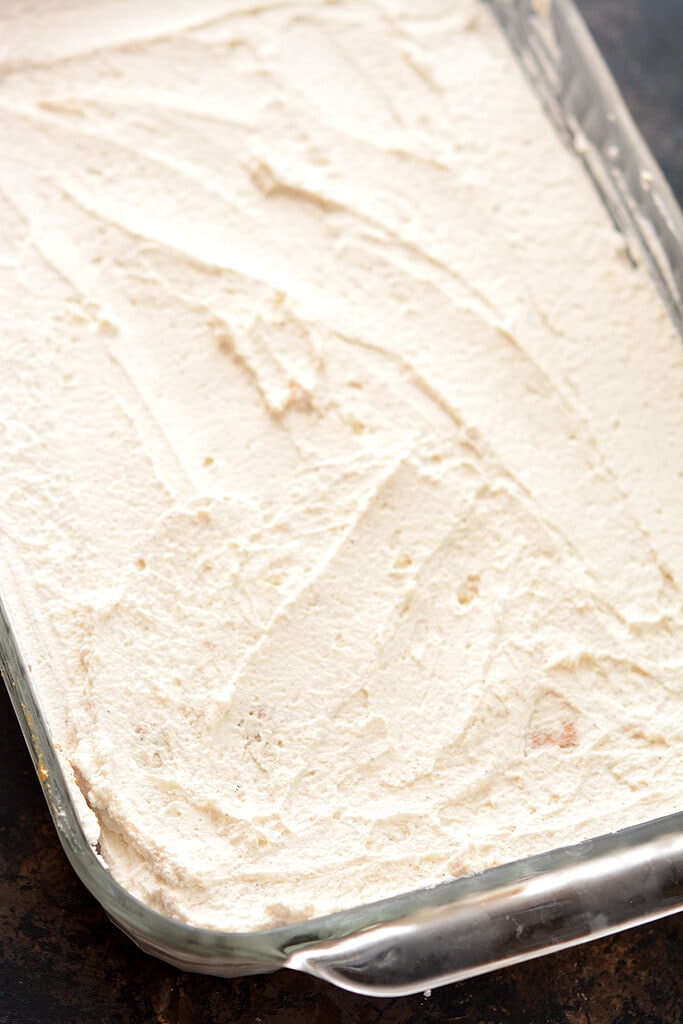 That being said, there are times when a treat is necessary and it's not always possible to get an order in at your favorite bakery in time.  That's when a few easy homemade dessert recipes that you keep on hand and that you know to be tried and true are a great option.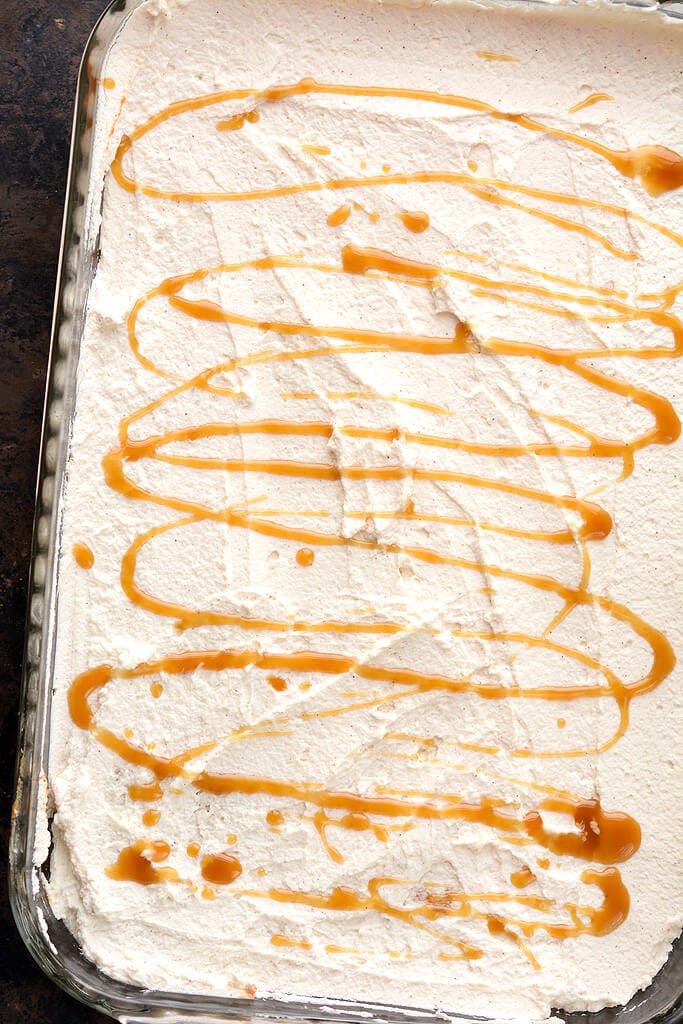 Ice box cakes have been around for a long time but are a fairly new discovery to me.  And, might I add, kind of a life saver!  No precise measuring and no actual baking involved yet you can make a cake that will be the hit of the party.  I've made three in the last few weeks and none have disappointed.
I think you can serve this Pumpkin Caramel Ice Box cake all year round, but here are some ideas for when to serve it.
Instead of pumpkin pie at Thanksgiving (If you need tips on cooking a turkey… check that out here)
Summer BBQ
Birthday party for someone who loves pumpkin!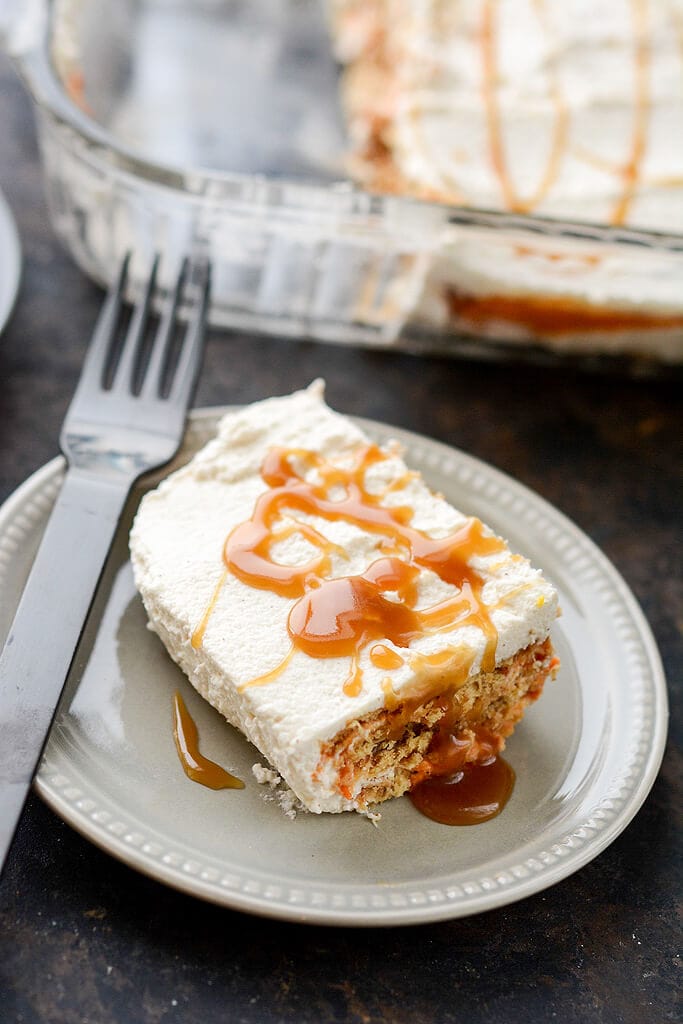 With homemade whipped cream and caramel sauce plus a little help in the form of graham crackers and pumpkin puree, this is a mostly homemade dessert that is easy to make and perfect for feeding a crowd!
Recipe inspired by Sally's Baking Addiction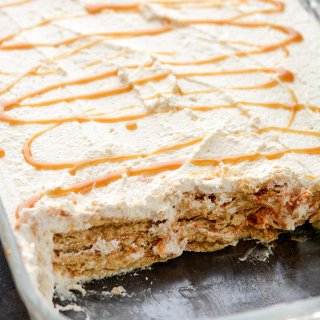 Ingredients
3

cups

heavy cream or heavy whipping cream

2/3

cup

confectioners' sugar

2

teaspoons

pure vanilla extract

1/2

teaspoon

cinnamon

20-21

full-sheet graham crackers

6-7 per layer x 3 layers

15

oz

canned pumpkin puree

1/2

cup

sweetened condensed milk

4

tablespoon

butter

½

cup

brown sugar

¼

cup

+ 2 tablespoons cup heavy whipping cream

1

teaspoon

vanilla extract

pinch

sea salt
Instructions
In a large bowl with hand mixer or using a stand mixer add cream, confectioners sugar, vanilla and cinnamon

Beat until stiff peak form, about 3-4 minutes

In another bowl mix together pumpkin puree and condensed milk

Melt butter in saucepan over medium high heat

Add sugar, cream and vanilla and whisk until smooth and dissolved

Let come to a bubble and boil for 2-3 minutes

Remove from heat, whisk in salt, then allow to cool

To assemble cake layer about 1/2 cup whipped cream in the bottom of a 9x13 casserole dish

Top with one layer of graham crackers (6-7) then top with 1/3 of whipped cream, 1/2 of pumpkin and 1/3 of caramel, repeat

For final layer add cracker, whipped cream and caramel

Cover and refrigerate for at least 2-3 hours before serving

Refrigerate any leftovers
If you love pumpkin and would like to try another one of my creations, check out these Mini Pumpkin Pies!