Korean BBQ Grilled Salmon
For a quick and healthy weeknight dinner, you can't beat a delicious grilled salmon! This Korean BBQ Grilled Salmon comes together with just a few ingredients and is easy to make! Alternate with Blackened Smoked Salmon for a tasty dinner time line-up!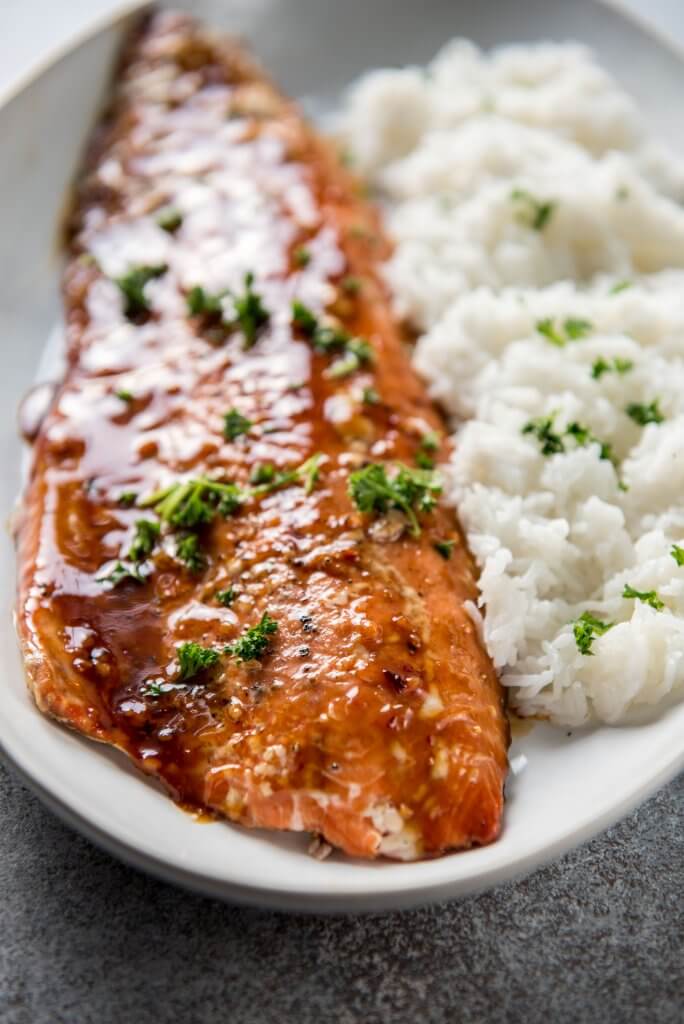 Every time I make salmon, I sort of do one of those palm to forehead things wondering why I don't make it more often. My family, and specifically my picky food critic daughter, go nuts for it. This salmon recipe is simple, yet flavorful and is now one that is on permanent rotation in my house. A simple marinade goes on this fish to create an easy healthy dinner. Korean BBQ Grilled Salmon will quickly become a favorite at your house too! Grill with the skin on for a no fuss dinner everyone will gather at the table to devour.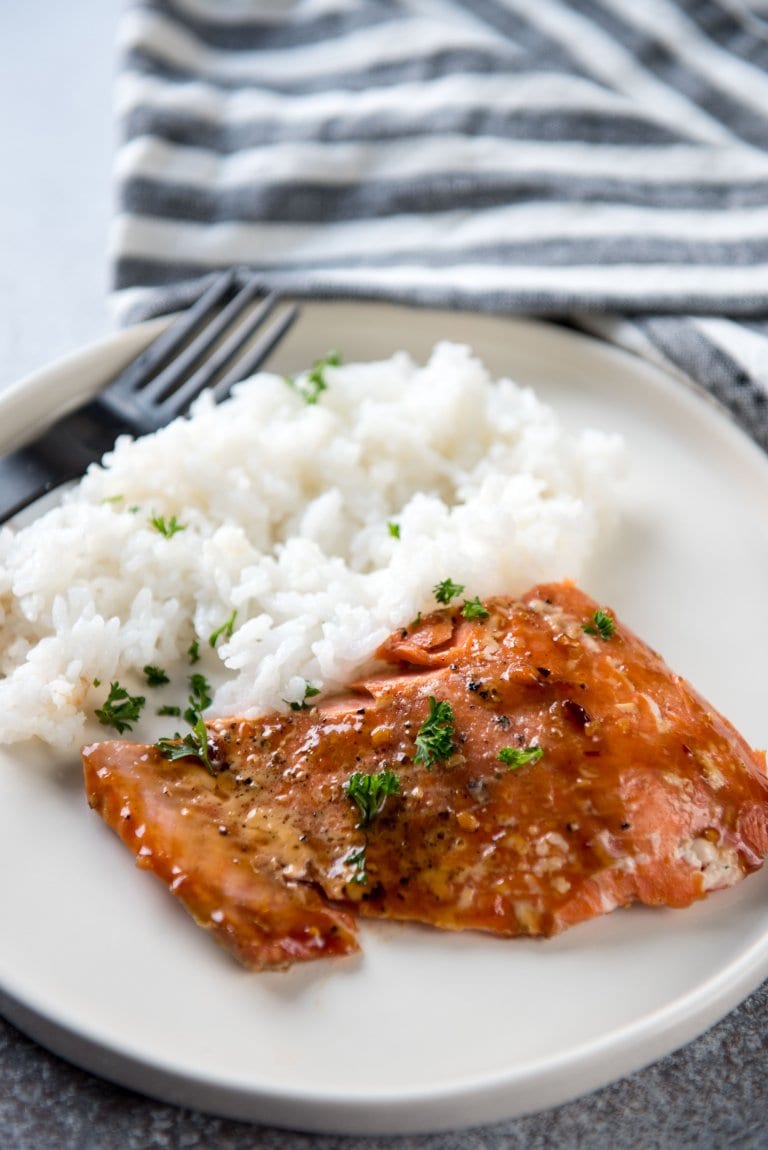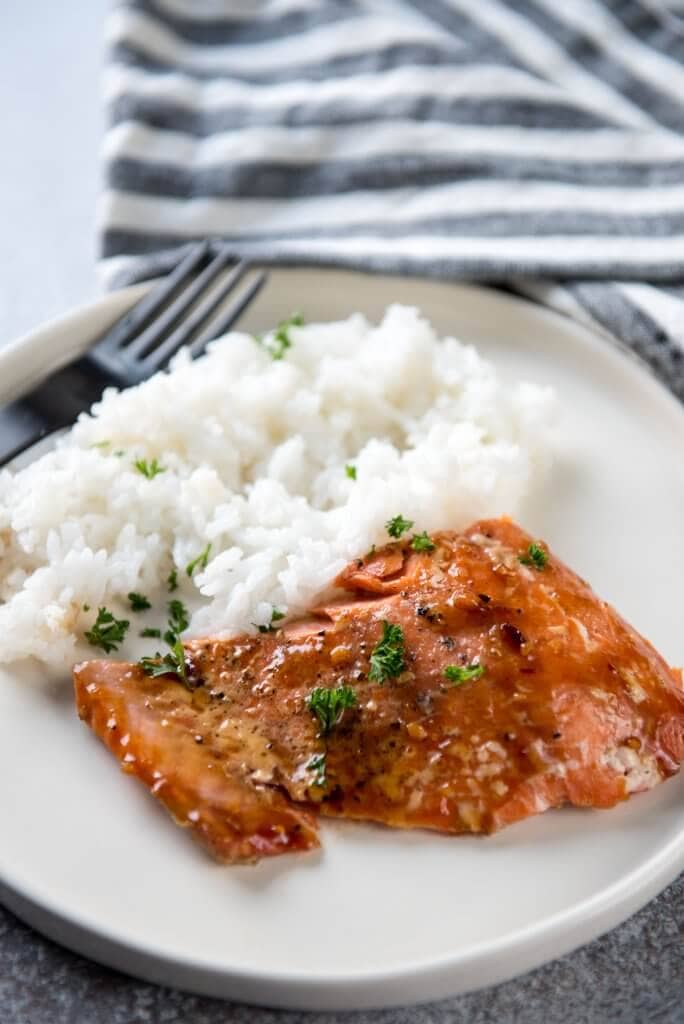 I hear from friends and family often that they enjoy salmon, but just don't know how to cook it correctly. While this recipe is sure to please everyone, it's a great one for beginners to learn to cook salmon properly. Let's jump into the basics of grilled salmon!
How do you grill a salmon fillet?
I prefer to leave the skin on and cook it skin side down. The cooked/charred skin then peels off easily, and you don't lose any of the precious meat.
Also by cooking it skin side down, you protect it from getting burned over overcooked to quickly
You'll want to make sure your grill is nonstick or that you use a little oil to keep the fish from sticking
If your fillets are smaller, make sure you have a basket to cook it in so that you don't lose the fish to the grates.
What temperature for grilled salmon?
I like to set my grill at 350 degrees F. You can go higher, but I feel like this is a great spot when cooking fish with a sweeter marinade such as this one, to let the fish cook through evenly, without burning or cooking to quickly.
The important thing to remember about temperature is to ensure the salmon is cooked to the proper internal temperature. The salmon should reach at least 145 degrees measured at the thickest part of the fillet.
When cooking meat or fish of any kind, it's important to have a thermometer to check for doneness.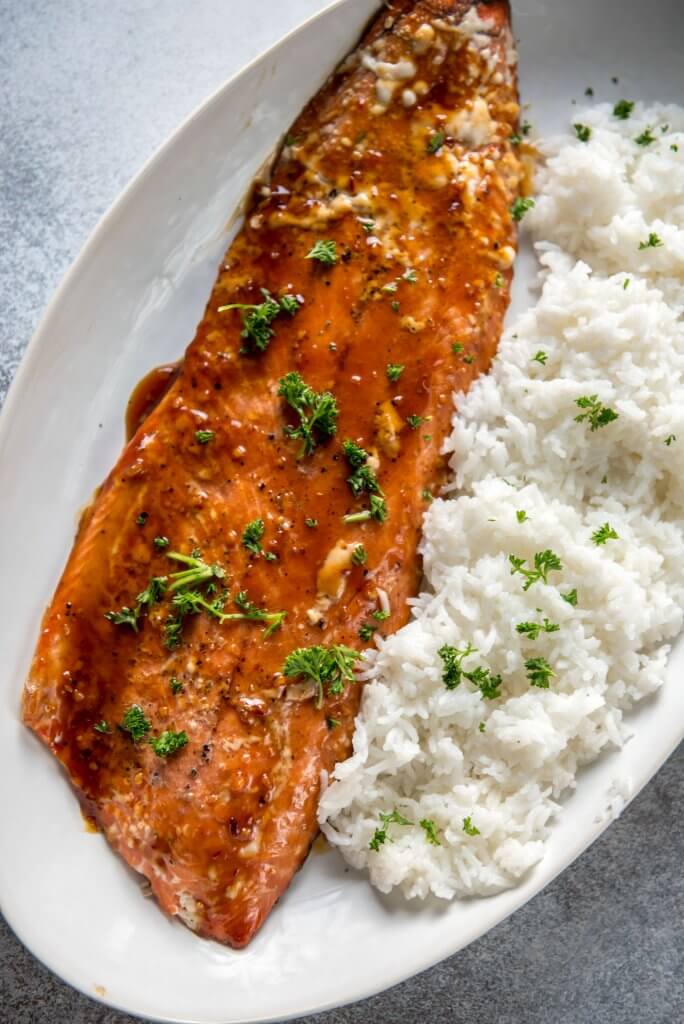 How long does it take to cook salmon on the grill?
The answer is a bit tricky, it really depends. Every piece of salmon will have a different thickness and you will really need to keep an eye on it.
Start in the 10-15 minute time range and adjust as needed depending on the grill temp and thickness of the salmon.
Again, the only way to know for sure when it's done is to check the temp. Also, fish should flake easily with a fork when done.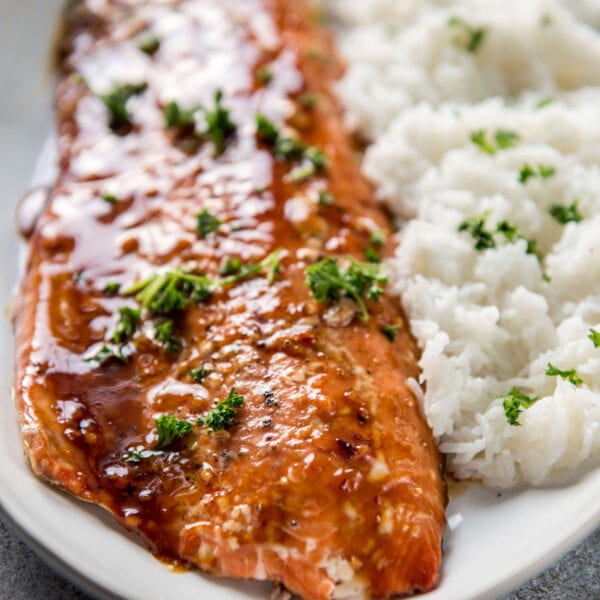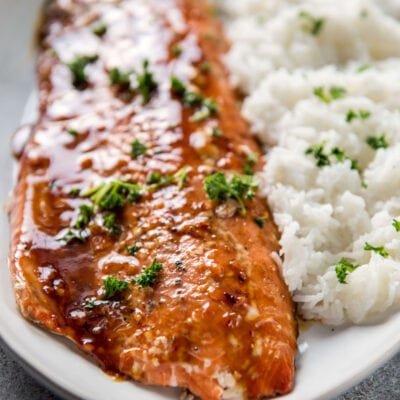 Korean BBQ Grilled Salmon
Print Recipe
Add to Collection
Go to Collections
Ingredients
1/2

cup

soy sauce

1/4

cup

brown sugar

2

teaspoons

jarred minced garlic

1

teaspoon

jarred minced ginger

1

teaspoon

sesame oil

1

tablespoon

cornstarch

1 1/2

pound

salmon fillet, skin on
Instructions
Preheat grill to 350 degrees

Whisk together soy sauce, sugar, garlic, ginger and sesame oil and place in small saucepan

Whisk together cornstarch with equal amount of water and then whisk into soy sauce mixture

Bring to a simmer over medium high heat until thickened, about 3-5 minutes

Let cool slightly and add salt and pepper to taste

Brush salmon with marinade and place skin side down on preheated grill

Grill for 5-10 minutes until salmon is almost cooked to 145 degrees then flip and let grill on flesh side 1-2 minutes if desired for grill marks
Notes
Up to 1 additional tablespoon of brown sugar can be added if sweeter marinade is desired
SaveSave