Less than 10 ingredients to make this simple Blackened Smoked Salmon with Peach Salsa on your smoker or grill! Enjoy this healthy dinner with your family this week!
Do you enjoy cooking fish or does it ever feel a bit intimidating? I find that making fish on the grill is just about one of the easiest ways to get perfectly cooked fish with the bonus prize of not stinking up your house with the smell of fish!  I like to buy the large salmon fillets in the freezer because I live in Kansas and fresh seafood does not come easily.  I find this is the second  best way to get more fish into my diet without breaking the bank.  This Blackened Smoked Salmon with Peach Salsa is insanely simple to make and so delicious and fresh it will make you finally want to stick to that resolve of getting more fish in your diet every week.
First up comes a generous rub of seasoning.  I used blackened seasoning to give it that spicy smoky flavor that would go well with the peach salsa.  And I really like seasoning blends for keeping things simple and not having to drag out the entire spice cabinet to make one meal.
Other seasoning blends that go well with salmon:
There's nothing much I love more than a simple fresh fruit salsa, especially when pairing with meats or fish for dinner.  The bonus is when you have leftovers to scoop up with some tasty tortilla chips.
When I made a pan seared halibut a while back, I added a pineapple salsa, but I bet it would be delicious with the peach salsa too!
Now, if you are on the hunt for an even milder, simpler fish recipe, you could head over and check out my tilapia recipe.  So easy and so tasty!!
A few tips for grilling up this Blacked Smoked Salmon or any other fish:
With a more delicate fish you'll want to use a fish basket or something similar to keep it from falling through, but salmon should be just fine on most grills
I do recommend leaving the skin on the salmon.  It will help you to get it on and off the grill faster, keep it from burning, and will remove much more easily after cooked
Make sure to use a meat thermometer made for the high temps of the grill to ensure your fish is cooked properly
Resist the urge to move it around or poke at it too much, you don't want it to lose it's juice or start to fall apart
There's noting better than that flaky, slightly crispy exterior of a piece of salmon that turns out all juicy inside. This is why I love grilling up some blacked smoked salmon!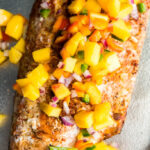 Blackened Smoked Salmon with Peach Salsa
Less than 10 ingredients to make this simple Blackened Smoked Salmon with Peach Salsa on your smoker or grill! Enjoy this healthy dinner with your family this week!

Ingredients
1 1/2

pounds

salmon

1/2

tablespoon

olive oil

2

tablespoons

blackening seasoning

3

ripe peaches

1

jalapeno

2

tablespoons

red onion

2

mini sweet peppers

1

tablespoon

lime juice

1

teaspoon

avocado oil

1/2

teaspoon

salt
Instructions
Leave skin side down and drizzle flesh side of fish with olive oil

Rub seasoning blend evenly over flesh side of fish

Preheat smoker according to manufacturer directions or preheat grill to 400 degrees

Place skin side down on preheated grill

Grill 15-20 minutes depending on thickness ensuring internal temperature of fish reaches 145 degrees F

While fish is cooking peel and dice peaches, jalapeño, onion and mini sweet peppers, removing any seeds

Toss with lime juice, avocado oil and salt

Serve fish topped with salsa
Nutrition Facts
Blackened Smoked Salmon with Peach Salsa
Amount Per Serving
Calories 319
Calories from Fat 126
% Daily Value*
Total Fat 14g 22%
Cholesterol 93mg 31%
Sodium 899mg 37%
Potassium 1076mg 31%
Total Carbohydrates 12g 4%
Protein 35g 70%
* Percent Daily Values are based on a 2000 calorie diet.
Freestyle Smart Points per Serving: 2