How to Make Air Fryer Baked Potatoes
Are you looking for a new way to cook the best baked potatoes? The air fryer is the solution for the perfect potato. It uses hot air and convection technology to make delicious baked potatoes with crispy skin in under 30 minutes! The best part is how they're crisp on the outside but tender and perfectly cooked on the inside. Below are instructions to follow for this easy recipe that will give you the best baked potato you've ever had!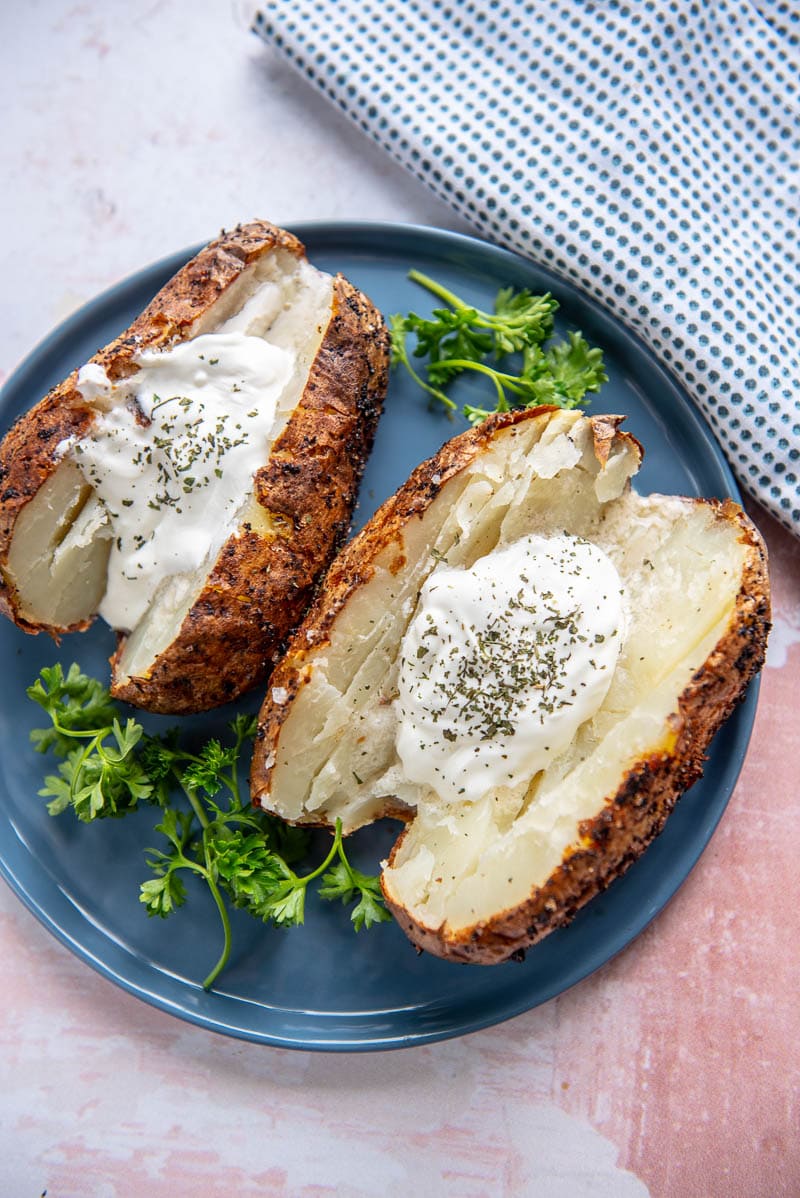 Everyone has their own opinion on what makes a great baked potato. However, the most important factor is that the potato is perfectly cooked and tender on the inside and crisp on the outside.
Cooking your favorite baked potatoes in an air fryer will give you exactly that! They are a great side dish for so many meals and are perfect for topping with so many different delicious things. You can go basic with sour cream and butter, or get wild and crazy and add buffalo chicken or even queso!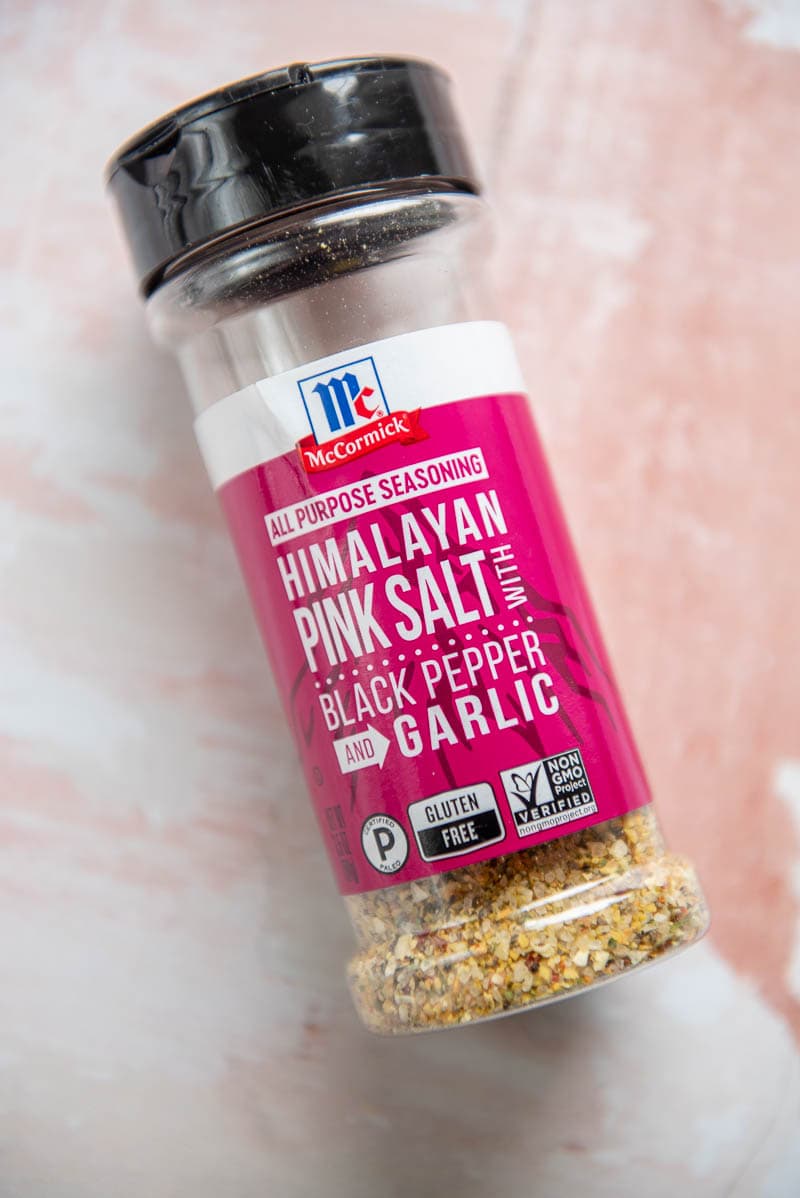 Ingredients you'll need
Do you like a fluffy potato? Russet potatoes are the best type to make the perfect baked potato. They are sturdy and have a high starch content which makes them fluffy and moist on the inside, even when cooked with oil in the oven or air fryer. They also have a thin skin that crisps up nicely with just a little bit of cooking time. This is why they make an excellent baked potato!
olive oil – olive oil is one of the healthier choices when it comes to oils. You don't need much when air frying, but to help the skin of a baked potato crisp up and for the potatoes cook more evenly you'll need a little. You could also substitute avocado oil if you prefer! You could even use cooking spray if you'd like, but make sure it's something like 100% avocado oil. I don't recommend using vegetable oil.
all purpose seasoning – you can choose any brand/flavor that you prefer. This one from McCormick is one of my favorite options!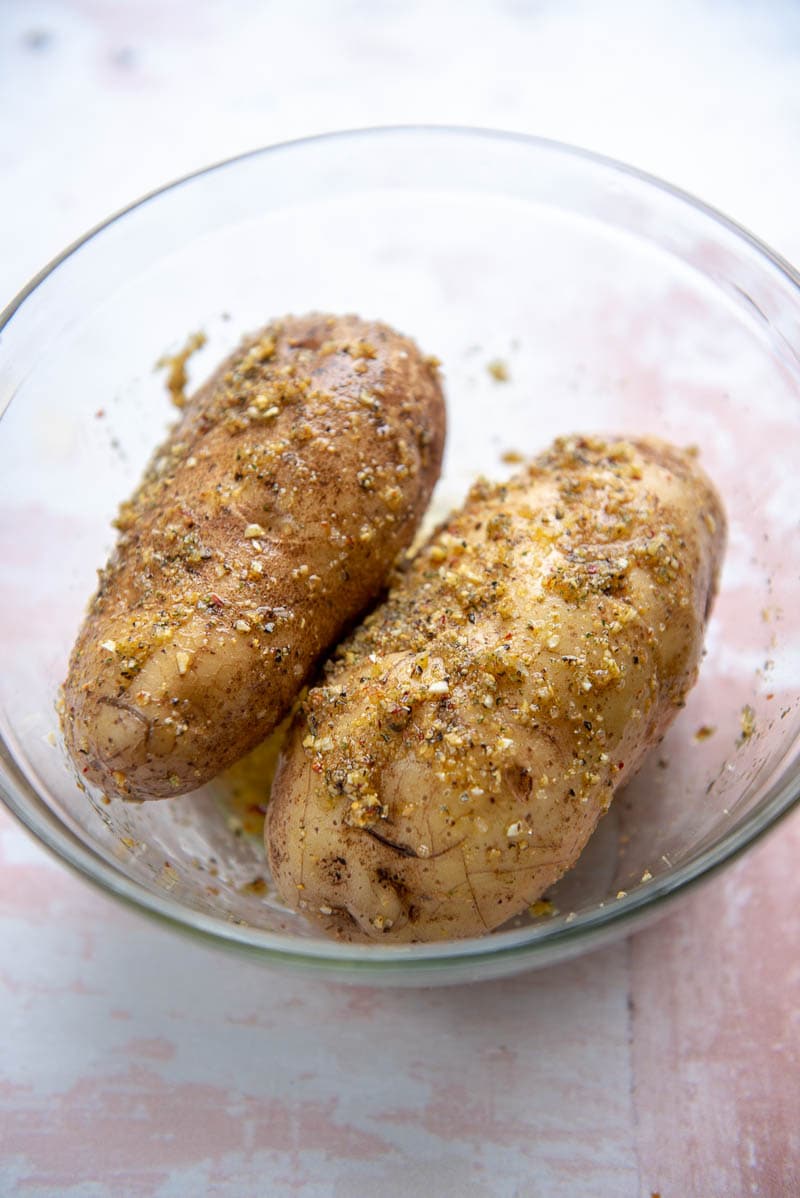 How to make this Air Fryer Baked Potato recipe
How do I prep potatoes for baking? First, make sure you scrub the dirt off of them. (No one wants to eat a gritty potato!) Then, use a fork to poke some holes in the potatoes–we don't want them to explode from the heat escaping! Next, toss them in oil so the seasoning sticks to the skin. After you sprinkle the seasoning on, place the potatoes in your air fryer basket.
Now all you have to do is turn on your machine (check your air fryer model and follow the instructions) and set it for 400 degrees for 25 minutes. You can also use tongs to flip or rotate the potato halfway through cooking time if desired.
Should I wrap my potatoes in foil before putting them in the air fryer? No! If you do, you'll miss out on that crispy crust. (Plus, your potatoes will have a "boiled" taste that isn't very appealing.)
Health Benefits of Russet Potatoes
Russet potatoes are an excellent source of vitamin B6 and a good source of copper, manganese, potassium, phosphorus and dietary fiber! In addition to these nutrients, baked russet potatoes also contain several phytochemicals that have been shown in studies to help prevent certain cancers such as colon cancer.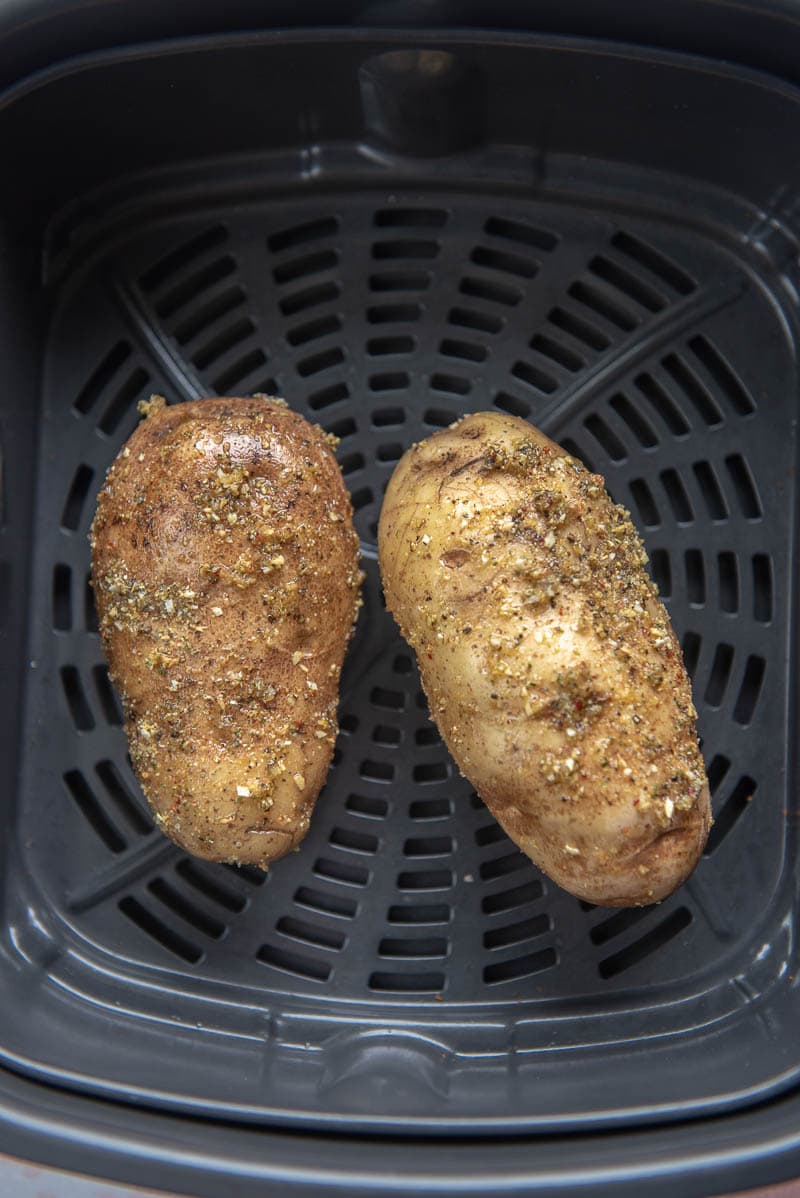 What about the size of your potatoes?
If you use large potatoes it will take the full cook time, if you use smaller potatoes then it may take less time so you'll want to be aware of the different cook times and check them a few times for doneness.
How do you know when a Baked Potato is done?
The skin should be crisp and the insides of the potato should be tender. The best way to check if a potato is done is to gently squeeze it with your tongs or pierce it with a fork. The fork should easily slide through when they are ready to eat!
What other spices can I use on baked potatoes?
You can choose any spice combination or brand that you prefer! For this recipe, I used all purpose seasoning but you could also use garlic powder, seasoned salt, Italian seasonings, sea salt, black pepper, etc. The seasonings you choose will give the potato a more flavorful skin.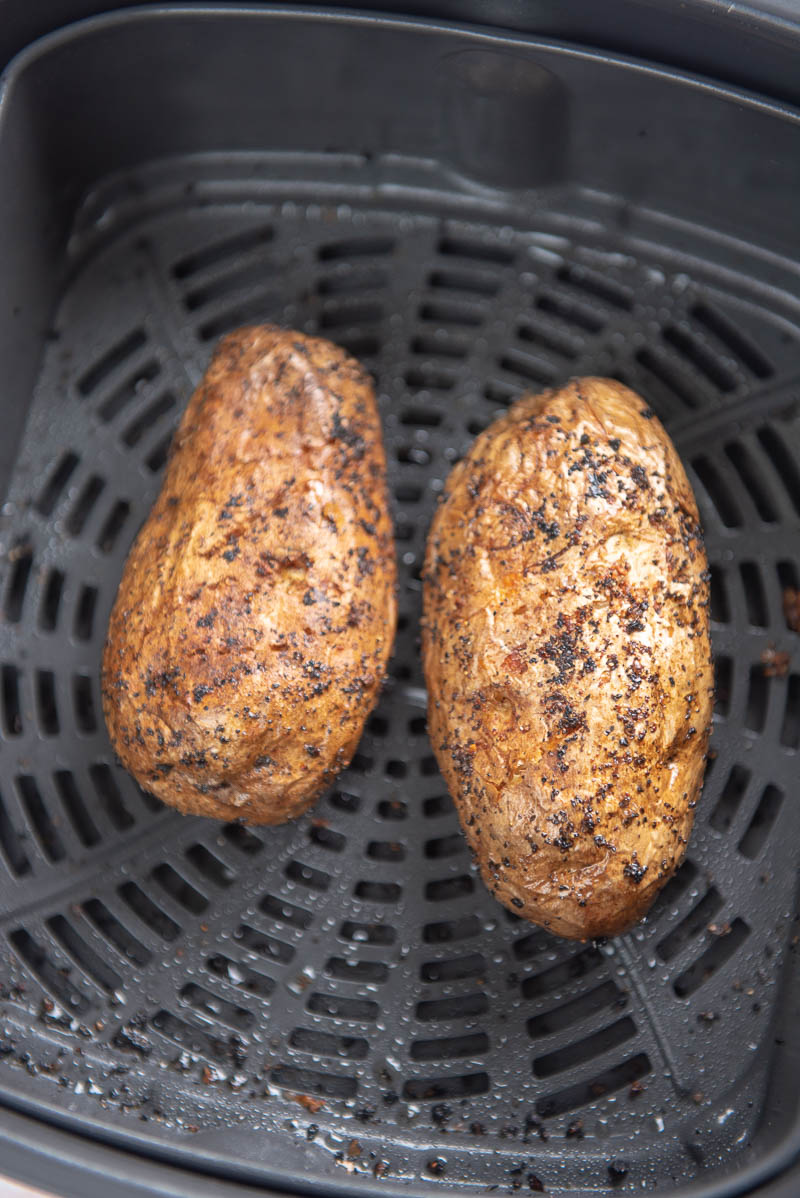 Clean up and Maintenance of Your Air Fryer!
If this is your first time using your air fryer, you will quickly realize that air fryers are one of the easiest appliances to clean. Simply wipe down the outside with a damp soapy cloth and rinse off.
To clean the air fryer basket, run warm water over it with a paper towel or soft cloth in order to remove excess oil and grime that may have accumulated during cooking time. You can also use a scrub brush if desired. Let all parts dry completely before putting back together and storing in your cabinet!
Favorite Toppings for Baked Potato
The potato topping may be the best part and options are nearly endless. For a party you could even set up an array of amazing toppings and let everyone make their own potato bar!
Tips for Potatoes in the Air Fryer
Make sure to clean the potatoes before cooking.
Spacing is key for air frying! You want to leave enough space around each potato so that it gets crispy. If you overload your basket, the potatoes will not crisp up or cook evenly, they might even end up soggy!
Cook only one layer of potatoes at a time.
Rotate for even cooking.
You can flip the potato over halfway through cooking if desired but there's no need to flip if you don't want to!
There's no need to use aluminum foil, you don't want your potatoes to taste boiled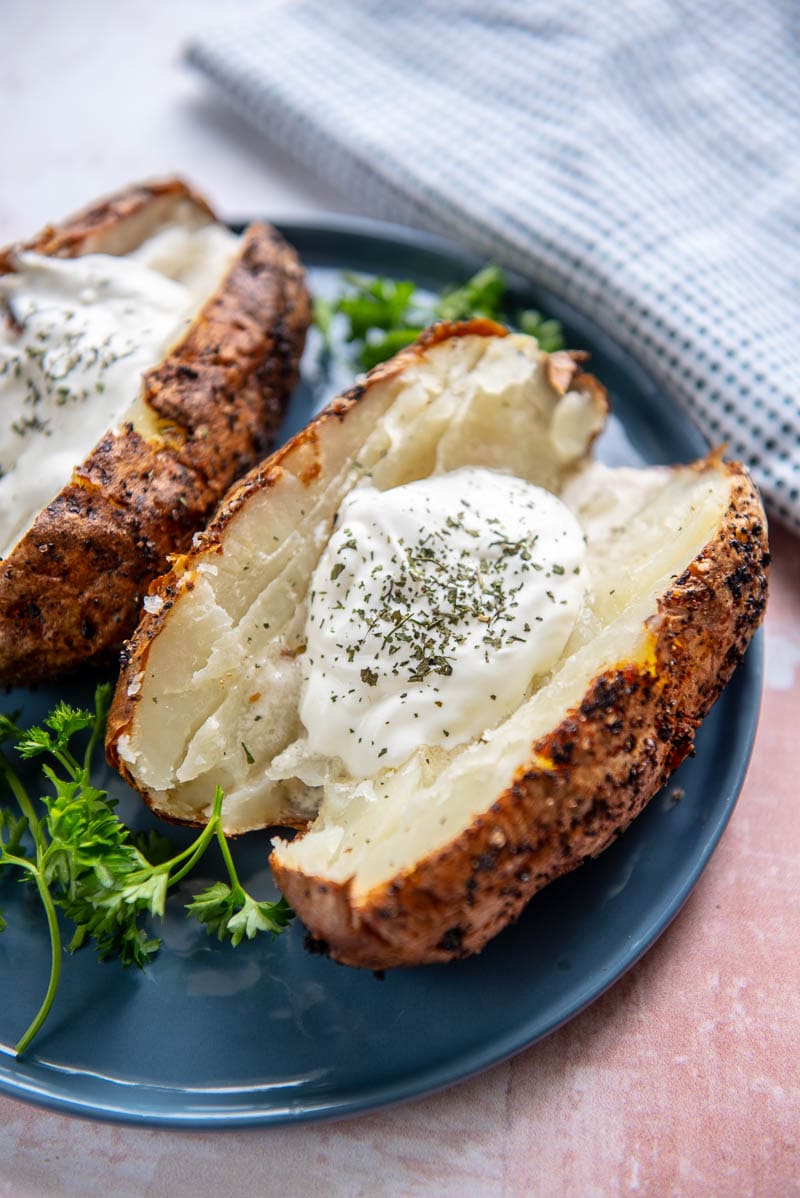 More Easy Air Fryer Recipes
Another great way to make potatoes when your in a hurry is in the Instant Pot.
Tools used in this recipe
Air fryers are an innovative kitchen appliance that help you cook healthy meals in a short amount of time. They use hot air and convection technology to make crispy, delicious food without as much oil oil! There are many different air fryers to choose from, this one is my favorite to use when cooking for a family.
Conclusion
Air fryer baked potatoes are perfect for those of us who want a crispy crust and tender insides. Remember that the cook time will vary depending on the size of your potato, so be sure to check a few times while cooking (although we have included an approximate guide in this blog post).
Once you remove them from the air fryer they should cool down quickly enough that you can eat them right away as well! Have you tried making these yet? If not then I hope this recipe has inspired you to do so soon! Be sure to pin it if you like this recipe or share with friends. Remember, there is no such thing as too many potatoes 😉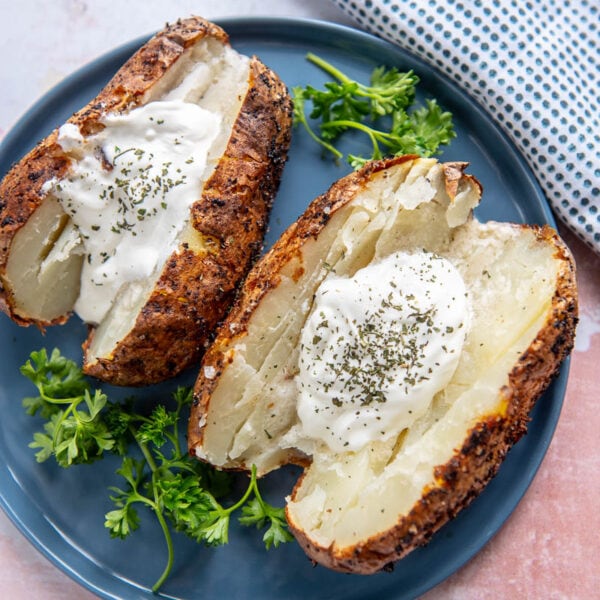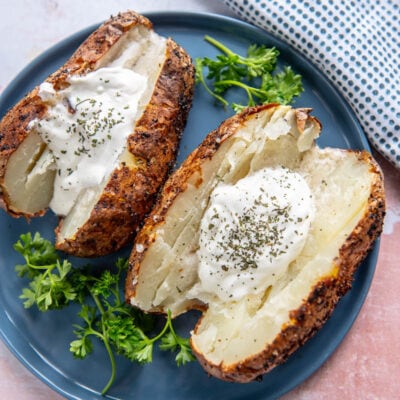 Air Fryer Baked Potatoes
Print Recipe
Craving baked potatoes but not wanting to heat up the oven? Grab your air fryer instead to make these simple and easy Air Fryer Baked Potatoes!
Add to Collection
Go to Collections
Instructions
Scrub potatoes clean and pierce with a fork 3-4 times on each side

Toss potatoes in a bowl with oil and seasoning to coat well

Place in air fryer basket

Cook at 400 degrees for 25 minutes

Turn and cook until fork tender (about 20 additional minutes)
Notes
Don't wrap potatoes in foil–it will leave you with a boiled taste and you'll miss out on that crispy crust
Nutrition
Calories:
312
kcal
|
Carbohydrates:
44
g
|
Protein:
5
g
|
Fat:
14
g
|
Saturated Fat:
2
g
|
Polyunsaturated Fat:
2
g
|
Monounsaturated Fat:
10
g
|
Sodium:
13
mg
|
Potassium:
982
mg
|
Fiber:
6
g
|
Sugar:
2
g
|
Vitamin A:
128
IU
|
Vitamin C:
12
mg
|
Calcium:
146
mg
|
Iron:
5
mg